Bildnachweis: Steve Dulieu
This article series is about the tools of popular guitarists. What are their favorite guitars and how is it related to them? This time with Innes Sibun.
My Les Paul is my main guitar, she's called Doris & is around 20 years old, I bought her after my previous Les Paul which had been given to me by Gibson for the Robert Plant Fate of nations tour  had several neck breaks & wouldn't stay in tune.  I put Bare knuckle Abraxas pickups in as I'm a Bare knuckle endorser, they make the greatest sounding pickups & they're such a great bunch of guys. The only other change I made was Tone pro's bridge & tailpiece which I think has helped with the sustain & natural tone.  She is as heavy as an elephant but plays & sounds great & has been all over the world with me & never let me down.
My Pelham blue SG started life as a white SG standard without the Maestro which I picked up cheap at an auction along with the Maestro.  I filled the original bridge holes but they still showed after I had fitted the tremelo so I thought I would cover them up with a respray, I got some Pelham blue nitro spray from Steve at Manchester guitar tech here in the UK & did a respray in my garage & it turned out pretty good, I'm a big fan of Pelham blue. The only other changes are a set of Bare knuckle Emerald pickups & an Emerson wiring loom, it took me quite a while to get the tuning stable but stays in tune perfectly now with some heavy use of the vibrato, also she is light which is cool for playing & travelling with.
My Firebird is an interesting guitar, I swapped her for a Les Paul Black beauty I had with the guys at Vintage & rare guitars here in Bath UK. They got her from a guitar tech of a name band who had split up after being dropped by their record company & couldn't pay all the wages owed to the crew so he was given this guitar as part of his wages. It's not an old model but has been refinished in Cardinal red & reliced by someone in the States, I've always loved Firebirds & at one time owned a 1968 sunburst model which I eventually sold. As with most Firebirds the balance isn't brilliant but who cares when a guitar looks this cool & plays so well. The pickups are the stock Gibson ones and sound amazing, I used this guitar quite a bit on the recent Malone Sibun album Come together.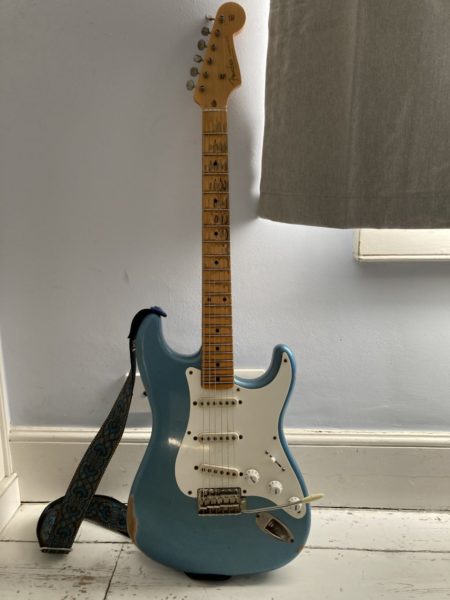 Everyone has to have a Strat & I've owned too many to count throughout the years, this one is an ebay special, the body is Iced blue I think & the neck is a big fat old maple custom shop neck, I really do believe that a lot of the tone comes from having a bigger neck with Strat's & Tele's & this one proves it I think. The pickups are Bare knuckle Irish tour's, I'm a massive Rory fan & these pickups really nail it. The bridge I got from a company called Wudtone here in the UK, it gives perfect tuning stability however crazy I go with the tremelo arm due to a thin sheet of steel under the bridge, I was surprised at how well it works. I also own a beautiful Strat made for me by California custom guitars which is a hard tail & I tune down to an open C, again that can be heard on a couple of tracks on Come together.
The guitar I use for slide in open E is one of the new Gibson SG specials which I picked up a few years ago, I find SG's perfect for slide because it's easy to get to the higher notes than on many guitars. I swapped out the pickups for a set of Lollar P90's I got cheap on ebay & I replaced the wiring with an Emerson loom, I really think that Gibson are making a comeback with the new guitars they are bringing out now, I'm a real traditionalist so not really a fan of any of the newer colours or designs so this guitar is perfect for me, if only they would do a TV yellow reissue I would be in guitar heaven.
My acoustic is a Taylor 714ce model which is totally stock, I don't want to go messing around trying to mod an acoustic. This is a new buy so I haven't gigged her yet but I love the neck on this guitar & the acoustic sound is really rich & beautiful. I use an Audio sprockets Tone dexter pre-amp pedal when I play acoustic live which is a pedal every acoustic player should try if they're unhappy with their piezo pickup sound, check it out on you tube, basically you plug your acoustic into the pedal as well as a condenser mic & play until the pedal has learned the mic'd up sound of your guitar through the pickup, then when you use it live it gives you the sound of your guitar through the mic, I swear it must be some kind of magic in there.  I also use a little Gretsch boxcar dobro for acoustic slide which sounds incredible for the price both acoustically & amplified.
Photo Credit: Linia Otwocka

---
Anzeige
Bestseller Nr. 1
Wikinger Valhalla mit Axt und Schild Pullover Hoodie
Thors Hammer und die Wikinger Axt mit Schild als Ausrüstung jedes Wikingers und Metal Design.
Wikinger Sprüche als ideales Geschenk für Fans der nordischen Mythologie, Kriegern, dem Mittelalter und Heavy Metal, Death Metal, oder Viking Metal Musik.
8.5 oz, Klassisch geschnitten, doppelt genähter Saum
Bestseller Nr. 2
Unisex Druck Kapuzenpullover 3D Druck Hoodie Schädel Punk Mann Kleidung Hoodie Heavy Metal Mode Sweatshirt Hohe Qualität Langarm Oversize Sweatshirt Loose Fit Kapuzenjacke mit Großer Tasche-3XL
Größeninfo: 3XL Bitte beachten Sie die Größentabelle.
Material: 80% Polyester + 20% Baumwolle, weiches und warmes, bequemes Material. Der Unisex-Kapuzenpullover besteht aus leichtem und atmungsaktivem Polyestermaterial und ist bequem und tragbar für alltägliche Aktivitäten. Halten Sie sich beim Laufen, im Fitnessstudio und bei anderen Sportarten warm und bequem.
Verwendet fortschrittliche 3D-Drucktechnologie und macht das Kapuzen-Sweatshirt lustig und cool. Helle und lebendige Farbe, ohne jemals zu verblassen, zu knacken, zu schälen oder abzublättern, Hand- oder Maschinenwäsche, kein Schrumpfen.
3D-Print-Hoodies, Kapuzenpullover mit Kordelzug, lässiger Sportpullover-Pullover, Langarm-Sweatshirt für Männer oder Frauen. 2 Taschen Detail halten Ihre Hand warm und bewahren Sie Ihre Schlüssel, Telefon, Geldbörse.
Das einzigartige Druckdesign und der klassische Stil eignen sich für Menschen jeden Alters. Einzigartige Muster und Farben zeigen Persönlichkeit und Charme, ideal für den täglichen Gebrauch, Freizeitkleidung, Sportanlässe, Paarkleidung, Schwestern- / Brüderkleidung, Clubpartykleidung.
Bestseller Nr. 3
Valknut, Odin, Wikinger Symbol, Pagan Nordisch Germanisch, Pullover Hoodie
Odins Valknut. Geschenkidee für Schildmaid und Nordmann. Für alle, die Wikinger Symbolik, nordische Mythologie, magische Runen, keltische Knoten, germanische Götter, Asgard, Walhalla, Pagan, Wicca, Kelten, Triquetra, Tattoo, Thors Hammer, Vegvisir lieben.
Wotans Knoten als coole Geschenk Idee für Freund, Freundin, Schildmaid, Nordmänner, Band, Team, Geburtstag, Weihnachten, Reisen, Party, Film, Musik, Festival, besondere Anlässe. Gothic, Heavy, Black, Metal, Comic, Dreieck, Walküre, viking, celtic, norse.
8.5 oz, Klassisch geschnitten, doppelt genähter Saum
Werbung mit Transparenz! Durch den Einkauf von Produkten über die hier gesetzten Amazon-Links kann das Fan-Projekt darkstars.de Provisionen erhalten, was aber für die Käufer preislich kein Nachteil ist. Siehe auch Projektfinanzierung darkstars.de.
Letzte Aktualisierung am 17.01.2022 / Affiliate Links / Bilder von der Amazon Product Advertising API