Bildnachweis: Pressefotos
In dieser Artikel Serie geht es um das Handwerkzeugs beliebter Gitarristen. Welches sind ihre Lieblingsgitarren und wie ist ihr Bezug dazu. Diesmal mit Jay Parmar. Der Artikel ist in Englisch.
Hi, I'm Jay Parmar. I'm a professional guitarist, producer, guitar builder and YouTuber. I have been playing for a little over 31 years and have been a full time professional musician for around 15 years now. I have quite a collection of guitars – I think around 30 plus gui-tars – I have lost count to be honest! And I have three others currently being built as well, which will be completed in the next month or two. I'd love to tell you about some of the guitars in my collection and some of the ones that I have built as well.For daily playing I have three main guitars: My Keipro DS Deluxe, a custom built Iconic Guitars Evolution S, and my Washburn N4 'Tunkasila' guitar – which I 'Spiritualized' for my-self as part of my own guitar company's range, Spirit Dance Guitars, which I will tell you more about later.
My Keipro DS Deluxe is a guitar that was sent to me by the guys at Keipro Guitars in 2017. Keipro is a Japanese manufacturer and they build really high end instruments reminiscent of Suhr guitars. I met the guys from Keipro when I went out to Music China in 2016 where I played for them. They are real artisan builders and the guitars are just special. I could tell that as soon as I walked onto the stand at the show and tried one of their instruments. I have two DS Deluxe guitars – on transparent green and one transparent black. The one I play most often is the black transparent which I have customised. It has a mahogany body with a curved maple top, baked maple neck, ebony fretboard, jumbo frets and profiled neck joint. The bridge has been changed out to a Wilkinson VS50MKII, which is one of my favourite bridges, it has a set of Suhr Doug Aldrich pickups and Gotoh Magnum locking tuners. This is one of my 'go to' guitars. It is an amazing sounding and playing guitar – neck profile is perfect – not too thin, not too thick – the fretwork from factory was just sublime, and it has always sounded really warm and punchy. The Doug Aldrich pickups made it sound even more punchy. The original pickups were Keipro's own design and they sounded fantastic too. I still have those pickups somewhere. I've used this guitar on so many recordings and videos now. I've kinda lost count.
Second is my Iconic Evolution S guitar which was built for me by Kevin Proctor at Iconic Guitars in 2019. Kevin and I have known each other for some years now and I played for him at NAMM for a few years. His work is exceptional! He is a seriously good builder. The guitar has an alder body, maple neck and maple fretboard, 22 stainless steel jumbo frets, reverse headstock (which is the first reverse head that Iconic did on a guitar), and profiled neck joint (again this was the first guitar that Iconic made which has that). The colour scheme was something that I had in mind for a while and it looks so great! The idea with this guitar was to relic is so that it looked like I had had it since the 80s and it had toured the world. Hence the dings and scrapes on it. I totally love that parts of it! Kevin did a spectacular job of relic work on this guitar. Kinda broke his heart to do the relicing as it looked so beautiful once painted but I think the patina it added makes is really special. The neck on this guitar is the best neck I have ever played. It is rolled so well on the edges that it feels like it has been played for 30 or 40 years! Its stunning! Hardware on this guitar is a pair of Lollar Imperial humbuckers, which sound stunning – the clarity and note definition is off the chart; locking Schaller tuners, Gotoh 510 bridge which has been modified by adding a brass sustain block and Wilkinson Locking Saddles. The locking saddles are excellent! Keeps everything in perfect tune. I also added a Schaller Sure Claw which I love using and install on all of my Spirit Dance Guitar builds. This is another 'go to' guitar. I'd say its probably the first one that I reach for when I'm playing, writing, recording. It feels like I have had it forever and a day. Such an awesome guitar. I love it!
Next up is my Washburn N4 'Tunkasila' guitar. I got this one last year and it became part of the Spirit Dance Guitars range that I build. Spirit Dance is my own guitar company and I build completely one off custom guitars for my clients. My ethos is to connect the guitars to my individual and so elements of their life and who there are go into the creation, artwork and story encapsulated in their guitar. It's a very personal process. As part of the range, I do 'Spiritualized' guitars as well, where I take an existing guitar, and give it the Spirit Dance treatment. This N4 I created for myself. The N4 is a guitar that I have wanted since 1990 when they came out and early last year, 2020, I managed to buy a stripped down body and neck. I had a plan to do some carving on the body, which I did in the shape of the Nuno Bettencourt tattoo/symbol, and then added some crystal inlays and arrow head as well. My one has an alder body, painted maple neck and ebony fretboard, 22 jumbo frets, real carbon fibre cavity covers, customised pickups – in the bridge I have a Bare Knuckle Pickups Holy Diver which has been modified with an Alnico 6 magnet, and in the neck position I have a Seymour Duncan Screamin' Demon again with an Alnico 6 Magnet, they are coil splittable via a push pull pot also – Floyd Rose Hot Rod bridge in matt black with brass block and stainless steel screws, 'Gold Tooth' B string saddle, Schaller Sure Claw, CTS 500k volume post, neck ferrules rather then a plate, custom graphics, etc. The body was also blow torched, which is part of what I do with Spirit Dance Guitars, and then sealed with nitro-cellulose lacquer.  I made a real impact on me. I love this guitar!
Recently I built another N4 for a client. This one had a swamp ash body and looks spectacular! The burning worked really well on this one to bring out the woodgrain. The spec on this one was a Floyd Rose Original, 'Gold Tooth' saddle again, Seymour Duncan pickups (A JB and Jazz), EVH D-Tuna, Freeway 6 way switch (which is awesome), Iron Age Kill Switch, Schaller Sure Claw, neck ferrules again. It was based on mine but personalised for the client, hence it has the Nuno Tattoo carved into the front and also the chequer pattern carved into the back. This one is named the N4 'Nina' and the name has a significant meaning to the client. The crystal inlays are also in the shape of the Gemini constellation. I have built a number of Spirit Dance guitars in the last few years and here are some pictures: The Sundance was the most involved and one of the most spectacular guitars I have ever built. It took about 11 months to create and a lot of Dremel work! The sister guitar to the Sundance is the Moondance – it was build for the same client who has the Sundance. We went for artwork this time but kept the carving in the middle the same with the change of depicting the moon rather than the sun. I do all of the artwork myself by hand in graphite pencil, paint, markers, and other medium as well. The White Buffalo guitar was really fantastic to create too. I used colour on this one and the artwork came out really special. This guitar also features pickups by Bertozzi Guitarworks which is my friend Gabrielle Bertozzi's company. They are really excellent pickups. The Spirit Dance 'Wichaphi Wakan' Guitar was a guitar that I build for my very close friend Dan Lovett-Horn from the band Promethium. The artwork is very closely connected to him and his whole family. It was a really special guitar to build. And the final one is the 'Wakan Sungila' guitar that I Spiritulized for my friend Rich Beardsley. This was a George Lynch style 'Burnt Tiger' guitar that he had had built by somebody. I took it to a whole new level last year.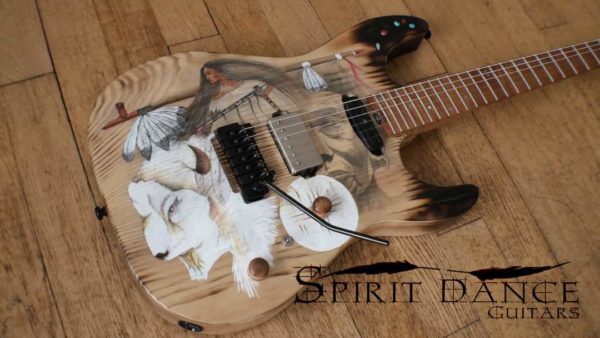 Wakan Sungila Before and After
The first Spirit Dance to be built was the ESP 'Spirit Dance' that I created for myself. This is a Part guitar that I put together myself. It's a guitar that I used to play every single day. It was my 'go to' until the Keipro arrived. I have been inspired and influenced by George Lynch and Warren DeMartini for many years so this guitar as a kind of hybrid of both of their styles, which a big dose of myself in there as well! It because the template for Spirit Dance with the worn look, inlays, Wilkinson bridge and locking tuners, simplicity of controls, etc. It has a real snakeskin pick guard, blow torched headstock – which is where the idea for my Spirit Dance builds came from – Arcane Mr Scary bridge pickup, an Entwistle single coil in neck position and locking tuners. It's still an awesome guitar.
This guitar inspired the very first full Spirit Dance Guitar, which is the 'Medicine Crow' guitar. I built this as a prototype guitar. I wanted to incorporate my hand drawn artwork onto the guitar as it is something else that I love to do. It has hand drawn graphics, crystal inlays and real feathers on it. The story about the neck on this one is interesting. Whilst working on the headstock, I managed to snap the head right off the neck! So, in order to repair it I used a 1mm maple veneer on the top to strengthen it, and then on the back I bonded a piece of real carbon fibre to add more strength. And so when I started to build more guitars, I decided to incorporate the carbon fibre on the back of headstock on every Spirit Dance. It's a design feature now but started off as a structural component. Medicine Crow has a pair of Bertozzi 'Hot Star' pickups on it also and I used the Wilkinson VS50MKII bridge, Schaller Sure Claw and locking tuners on it as well as its my favourite combination of hardware and something I wanted to carry through to other guitars. The unique Spirit Dance headstock design also started on this guitar.
Like I mentioned, George Lynch was a big influence me a great deal so I have a few ESP's, some of them being George Lynch models; The original 1990 Skull and Snakes with the ESP Strat style head shape, an ESP Serpent which is very rare now, a couple of GL256 guitars which I have customised, and a couple of others. I use them now and then. I also have a Skull and Bones guitar which I built myself. That one is a Spirit Dance as well and called 'Spirit Bonez'. This one is different from the original J. Frog Skull and Bones (which I have actually played by the way). My one is very very very detailed and much more 3D then the original. This is another one of those guitars that I wanted forever as well. I had pictures of it up on my wall when I was a kid starting out on guitar.
Another guitar that is worth mentioning is my Strat. It is a Parts-Caster. I don't know the exact origins of it but it is from parts and was built for the guy I purchased it from. I got lucky on eBay some years ago and bought it for £70! Crazy low price! And is a fantastic guitar! The neck is superb. It sounds great and I love playing it. In fact I used it recently on a YouTube video of a Blues track that I wrote. I have upgraded the bridge to a Wilkinson with a big steel block, Highwood saddles (which are fantastic), I changed out the single coils – I have a Dimarzio Area 67 in bridge, Seymour Duncan SSL-1 in middle and Bar knuckle True Grit Bootcamp in neck. It's a fantastic sounding guitar, Has some real 'Mojo' to it.
There are lots of others in the collection too, which people can see and hear on my Youtube videos and social media as well. So, there you go! I hope it's been interesting.
Links:
——Social Media——-
INSTAGRAM:  https://www.instagram.com/jayparmarguitarist
FACEBOOK:  http://www.facebook.com/JayParmarMusic
TWITTER:  http://www.twitter.com/jayparmarguitar
https://www.rockland-music.de/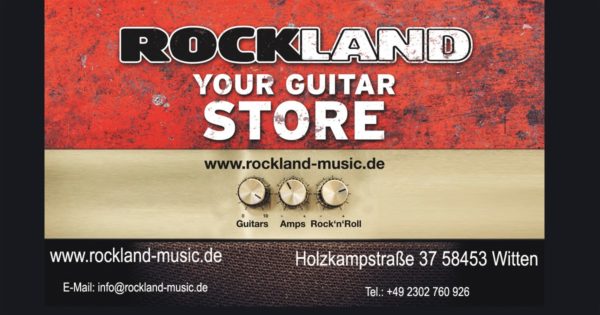 ---
Anzeige
Bestseller Nr. 1
Metal Is Religion Heavy Metal Rock Musik Baphomet Satan Pullover Hoodie
Wenn du auf Heavy Metal, Death Metal, Rock Musik oder jede andere harte Musik stehst, dann ist dieses Design perfekt für dich. Denn Metal is Religion
Einzigartige Geschenkidee für Freunde und Familie die gerne HEavy Metal hören. Perfekt für jedes Metalkonzert, Festival oder Party
8.5 oz, Klassisch geschnitten, doppelt genähter Saum
Bestseller Nr. 2
Spiral - Forest Wolf - Hoodie mit durchgehendem Reißverschluss - Schwarz - XXL
Der schwarze Hoodie mit durchgehendem Reißverschluss besteht aus 100 % hochwertigem Baumwollfleece mit hautfreundlichen, Azo-freien Reaktivfarben.
Spiral ist eine schon lange etablierte Marke mit Schwerpunkt auf Gothic und Heavy Metal, die Bekleidung für Damen und Herren anbietet.
Die Designs von Spiral decken eine große Bandbreite ab, von Tribal über Gothic, Horror, Fantasy und Fetisch bis hin zu kommerzielleren Stilen wie Vintage, Fashion und Used Look, mit allen Motiven als Siebdruck.
Dies ist nur eins der einzigartigen Produkte aus dem riesigen Sortiment an alternativen Fashion-Artikeln von Spiral!
Bestseller Nr. 3
Retrowave Pastell Gothic Katze 80er Jahre Synthwave Retro Death Metal Pullover Hoodie
Death Metal Synthwave Sunset Design für satanische Rockanbeter und Metallband-Mitglieder, die schwarzen Humor haben, die Vaporwave Ästhetik mögen. Rocker Design mit einer Otaku Kawaii Katze im Himmel vor einem pastellfarbenen Gothic Sonnenuntergang und Metallspruch für Jungen und Mädchen.
Sarkastische 1980er Jahre Kleidung für das nächste Rock und Gothic Festival Vintage 90er Jahre Metall Katze Design für Männer, Kleinkinder und Frauen, die Pastell Gothic Rocker Küken Kleidung für Frauen für Halloween, Proberäume oder Konzerte von Ihrer Lieblingspunk-Rock-Band lieben.
8.5 oz, Klassisch geschnitten, doppelt genähter Saum
Werbung mit Transparenz! Durch den Einkauf von Produkten über die hier gesetzten Amazon-Links kann das Fan-Projekt darkstars.de Provisionen erhalten, was aber für die Käufer preislich kein Nachteil ist. Siehe auch Projektfinanzierung darkstars.de.
Letzte Aktualisierung am 21.10.2021 / Affiliate Links / Bilder von der Amazon Product Advertising API