In dieser Artikel Serie geht es um das Handwerkzeugs beliebter Gitarristen. Welches sind ihre Lieblingsgitarren und wie ist ihr Bezug dazu. Diesmal mit Robb Weir, dem Gitarristen der legendären NWOBHM Band TYGERS OF PAN TANG. Der Artikel ist diesmal in Englisch.
I started playing guitar when I was about 12, my Dad bought me my first electric guitar in 1972 which was a black Les Paul copy made by Avon. I absolutely loved it, I thought I was Jimmy Page, Ritchie Blackmore and Tony Iommi all wrapped into one, only problem was my reflection in the mirror played better guitar than I did! I started writing songs almost as soon as I could string a few chords together and as the songwriting progressed so did the guitar collecting….In 1976 I ventured into 'White Sound,' music store located in the North East of England and fell in love with another guitar, this one was a little more pricey. A black Antoria 'Memphis Florentine Vine' Les Paul custom, and what a beauty that girl was! My backline at the time consisted of a Laney 'Klipp' 100 watt all valve head and a custom Marshall 4×12 cab and boy could I do some damage to your ear drums if you let me! I eventually sold the Antoria in a bid to buy my next guitar eye candy conquest, an Ibanez 'Moderne,' which I got direct from the importers in my home town, Newcastle-upon-Tyne. Around the same time I also acquired my first Gibson Les Paul shaped guitar, a 'Marauder.' Below is a picture of me and Rocky with my Ibanez 'Moderne' at the Rex Hotel in Whitley Bay in 1978.
My first guitar endorsement deal was with 'Mighty Mite' in 1980. They made me several guitars including an 'Explorocaster!' an explorer body with a strat neck and a strat trem which I used to record the 'Wildcat' album in 1980. Mighty Mite also made me a 3 pickup Les Paul, a B.C. Rich type 'Bich' body with a strat neck (Here is a picture of me and John Sykes below at Morgan recording studios in London with half our backline and my 'Strat'o'bich' guitar. Mighty Mite also made me a Strat with a 'triple bucker,' humbucker. Yes you read it right, a humbucker with 3 rows (18) pole magnets!
When the Tygers signed their first record deal my guitar collection started to grow a little quicker and by early '82 I owned 3 Gibson Les Paul's, a Gibson Explorer, a Gibson ES 175 jazz guitar, 4 Gibson SG's, 2 Ovation acoustics', a '73 Fender strat, (pictured above at the Newcastle Mayfair Ballroom on the 'Cage' UK tour in 1982) 2 Gibson Flying V's and a beautiful, original, Danelectro 'long horn' bass.
When we toured Japan for the first time in September 1982 we signed an endorsement deal with Yamaha and were given 2 Yamaha SG 3000 customs's each! The photo above show's Fred Purser using one of these amazing guitars while on stage in Tokyo. My 'horse' trading in guitars has continued to this day! My most recent acquisitions include 2, T.C. Ellis Les Paul's, made by guitar luthier Tim Ellis in Cardiff, only 43 were ever made. Famous current owners of these guitars include, Phil Campbell (formerly of Motorhead) and Dave Grohl (Foo Fighters).
I have been using this cream 3 pickup custom as my touring guitar for a few years but like a chameleon I am about to change to my own brand of guitars I have made for me called, 'Mortimer' guitars. A local guitar luthier makes them, we usually start with a 'donor' guitar and then the fun starts! Just recently I was lucky enough to secure a new guitar endorsement deal with Harley Benton guitars from Germany. They are fantastic guitars, extremely well made and they play and sound way beyond their price tag I can tell you! I'm lucky enough to have mine handpicked from the production line and hope to have my own signature model in production soon. The Harley Benton pictured below is my SC-Custom II Lemon Flame, fitted with a pair of Warman 'Stealth' humbuckers. It's a beaut! By the way that's a real flame top not a cheap photo finish!
Ok, let's talk pickups…For me there is only one brand and I use them in all my guitars and the name… 'Warman.' As far as quality pickups go they are the best, I've tried everything you can think of going, including paying hundreds of pounds for one set of humbuckers! These are the dog's bxllocks! The guys at Warman Guitars are great people to deal with and will even advise you on the right way to wire your guitar!
You've got to check them out, I've turned several 'Big names' on to them. Hopefully the Tygers will be out on the road in 2021 with our new 'Hot shot' guitar player, Francesco Marras tearing up his fret board, and I'll be knocking out a few chords beside him as well! Stay safe, healthy and happy and I'll see you after the show….
Photos by: Barry WN /Tine Gennaio/ Pressfotos/ Facebook Pics/ Robb Weir
http://www.tygersofpantang.com/
https://www.rockland-music.de/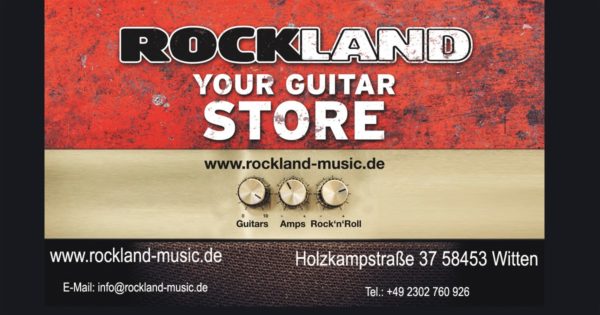 ---
Anzeige
Werbung mit Transparenz! Durch den Einkauf von Produkten über die hier gesetzten Amazon-Links kann das Fan-Projekt darkstars.de Provisionen erhalten, was aber für die Käufer preislich kein Nachteil ist. Siehe auch Projektfinanzierung darkstars.de.
Letzte Aktualisierung am 9.01.2022 / Affiliate Links / Bilder von der Amazon Product Advertising API