This article series is about the tools of popular guitarists. What are their favorite guitars and how is it related to them? This time with Gunnar DüGrey Richardson (Vicious Rumors).
The first guitar I ever had was a Dean Michael Schenker Signature V. I got it for my ninth birthday and I thought it was so cool, I never wanted to put it down.
This is one of the few electrics I still own that isn't a Dean. It's a GTX, which from what I've researched, seems to be a Korean brand from the 80s that made all kinds of wild looking super Strat type guitars. It was the second one I ever got, and I found it for only $150 at my local music shop at the time. It doesn't play very well, but it's a cool piece of history.
About six years after I started playing, I discovered Jeff Loomis, who quickly became one of my favorite guitarists, and a huge inspiration for me. After begging my parents for months, I got my first 7 string guitar and spent all my time learning the songs from his solo albums. It was another Dean, an RC7 Wraith. I fell in love with extended range instruments and began writing on a 7 string for my original music. Pictured here, are my three main RC7s that I use for Vicious Rumors. Although our music doesn't feature the extra string, they're such amazing, comfortable guitars, that I decided to simply play them anyway and ignore the lowest string. The one in the middle was the first guitar I received from Dean upon becoming a sponsored artist at the age of 16, so that one holds a special place in my heart.
Along with my 7 strings, I also love 8 string guitars. I use these amazing Dean USA RC8s for all of my original music. I'm currently working on a new album under a new band name that will feature these bad boys… stay tuned for more details on that. You'll notice that almost all of these are outfitted with Bare Knuckle Pickups. I joined the Bare Knuckle roster in 2017, the same year I joined Vicious Rumors. They hand wind some of the finest pickups in the world, and I really can't recommend them enough.
Here are a few acoustics from my collection. I love steel string and nylon string guitars both, and often use them in the studio for different projects. But I also love studying classical guitar, or maybe playing some bluegrass from time to time.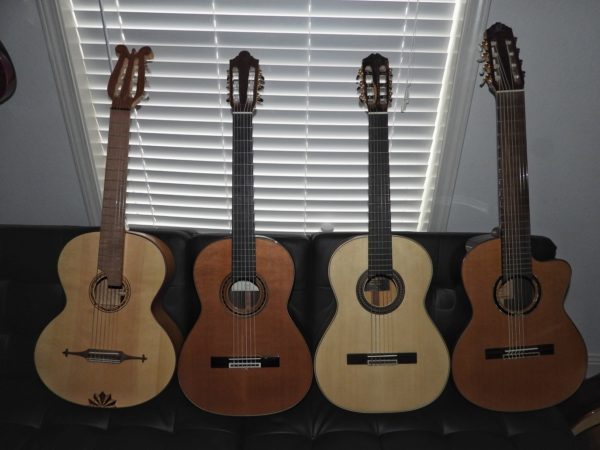 And finally, here are a handful of random 6 string Deans that I've acquired over the years. Many directly from them, but I've also found quite a few older ones online and at different shops. The Tele style guitar (Dean NashVegas) and the Budweiser Professional are my main guitars for the honkey tonk band that I play with, the Robert Henry Band. The others I use frequently for an Iron Maiden tribute band that I play with called Maiden NW, along with various other random fill in gigs that I'm offered.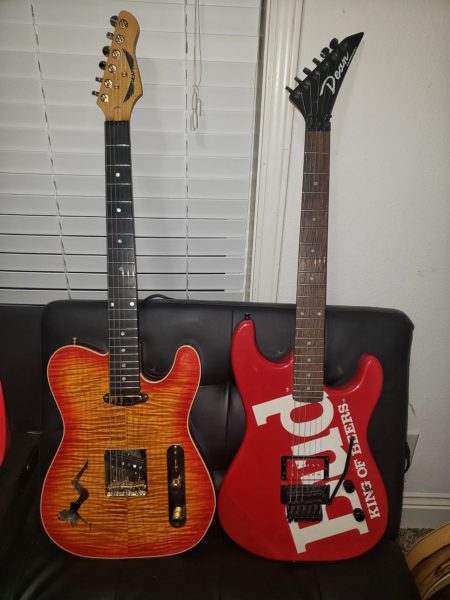 I hope you enjoyed taking a peek at my collection! Special thanks to Dean Guitars for being such a fantastic company to work with for so many years, and providing me with so many of these amazing guitars. I hope you'll be able to catch me playing them live in 2022!
https://www.facebook.com/ViciousRumorsThisIsMetal
https://www.facebook.com/gunnar.richardson