This article series is about the tools of popular guitarists. What are their favorite guitars and how is it related to them? This time with  Steve Ray Potts (Guild of Others).
My name is Steve Ray Potts and I'm the co-founder, guitar player and songwriter for "Guild of Others."
What made you pick up the guitar in the first place?
It was the sound of old T. Rex and the magic created by Marc Bolan. His music was simple but electrifying. It had melodic and rhythmic hooks that I dug, and that planted the seed for my lifelong addiction to music. My dad – who was a classical music fanatic – could see that and bought me an Audition semi-acoustic from Woolworths for my birthday. I spent hours in my box bedroom listening to records and teaching myself to play all those great tunes and others. Having a rhythmic and melodic foundation stuck with me throughout my evolution as a player and a songwriter.
That's a long way from Guild of Others! How did you get from there to here?
Well, the scene evolved, didn't it? Growing up in London and with all that youth angst, I was drawn to the heaviness of the now-classic hard rock/metal bands Black Sabbath, Deep Purple and UFO, on up through Iron Maiden at the dawn of the New Wave of British Heavy Metal. I spent many nights headbanging down at Neil Kay's Heavy Metal Soundhouse with my mates. Dave Murray was a definite influence while I was learning the basics. Other guitarists that influenced my playing were Tony Iommi, Michael Schenker, Jeff Beck, Dave Gilmour and Brian May to name a few. I moved up to an Ibanez ST200 and joined a band called Vengeance as a rhythm player with Jon Barry (The Far Meadow), who became my mentor and inspired me to solo. I wanted to play solos that were memorable and that expressed my emotions. Playing live – that's where I learned my chops – and touring the UK with a band called Siris. Throughout, my dad was a rock – he got turned on to metal, which had the power of his beloved classics. We even went to see Sabbath together at Hammersmith, and he followed our band around in the van, never missing a show.
After my dad passed, I moved to the States. It was me, a suitcase and my '69 Fender Strat. I got held up at Customs – they wanted to put me in front of an immigration judge and turn my ass around. Long story short, I made my way to California and eventually formed a band called Symbolic, which was where I first worked with drummer extraordinaire Tom Wallace. The songs had a progressive edge, but the band ultimately took a power metal direction, and we briefly parted ways. After a few years I ran into Tom at a Winery Dogs gig at the Wiltern Theater in LA and he asked if I would be interested in writing songs for a new progressive metal project that became Guild of Others. Tom had already connected with the album guests Derek Sherinian (keys) and Tony Franklin (bass) among others. We later tapped Craig Goldy, who had been an awesome supporter of my music and plays a crushing solo on Veil of Insanity, which will be our next lyric video after Otherside.
As for how the songs and the album came together, typically, I would come up with a basic idea for a song, and then Tom and I would rehearse and arrange it to our liking. After we had the musical foundation for eight songs, we recorded them at my home studio. I used these tracks as a basis from which to write lyrics, vocal melodies and guitar solos, and to decide which guitars I wanted to use. With all of the pieces in place for each song, we ultimately recorded the album at a pro studio.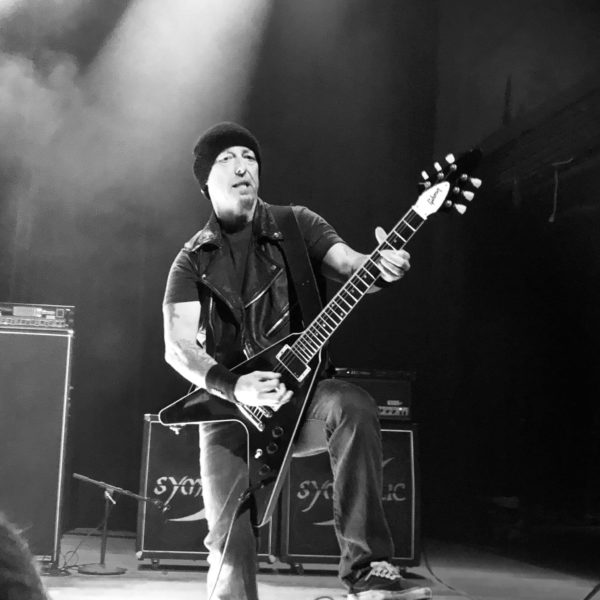 Tell us about your guitars and gear
The '69 Fender Strat that came with me from London is still my baby. I had it outfitted with EMG-ZW humbuckers. The neck pickup is really warm to helps to pull out those emotions whilst the bridge pickup rips cranking-ass heavy rhythms. I use this guitar for both live and studio work. Its fretboard has molded itself to me and my playing over the years. In fact, I used this guitar to lay down the solo on Otherside. As a complement to my Fenders, I play an '84 Gibson Explorer which has a fluid fretboard – it's like my fingers are gliding on a sheet of glass. I also love playing a Gibson Flying V Pro for putting on that heavy metal show. It's great for hanging lower on the body and connecting with my center of gravity and the audience.
My main amp is a Peavey 6505, which for me has a great clean tone combined with a crushing heaviness that suits my playing. Beyond my amp and guitars, its pretty minimal. My pick is the size of a US dime – I like to get my thumb really close to the strings. For effects, I use a Roland GP-8 for delay and when I'm soloing, I spend a lot of time on my Wah pedal digging out warm tonal qualities. At the end of the day, I guess its all in how you play, what's in your body and soul and how you connect with your instrument. For studio work, I also use a Kemper Profiler. I find it so convenient, easy to use and versatile.
What can you tell us about the upcoming Guild of Others release?
The first album is due for release through Louder Than Loud Records on February 18, 2022 – we can't wait! Here I share with you our first lyric video Otherside. If you listen to this tune, you will hear my influences as a rhythm and lead player, and also as a songwriter.