This article series is about the tools of popular guitarists. What are their favorite guitars and how is it related to them? This time with Sammy Black (Lovex, Delta Enigma, Diefall)
Hey, Sammy Black here. I'm finnish guitarist from LOVEX, DELTA ENIGMA & DIEFALL. I've always had a passion for Ibanez guitars and today I'm going to introduce you to my most precious guitar from my years of being a musician. I was 14 when my dad bought my first guitar from a local flea market. It was beat up old cheap Gretsch guitar and strings were high as hell but after a little adjustment by a professional guitarist it got the job done. The spark for playing guitar was ignited.
Soon after that I started reading different guitar magazines and at some point I spotted an article about a guitar wizard called Steve Vai. And there he was with his new guitar. It was the most beautiful thing I'd ever seen. The guitar was Ibanez JEM 10th ANNIVERSARY. Real work of art. I started to cut out pictures of that guitar from different magazines and put them on my wall. At that point I decided that some day I will have that guitar.
That day came in 2007 when I bought my own JEM 10th from Australia. Ibanez manufactured only 852 pieces of this JEM 10th Anniversary model during 1996-1997. Every guitar has its own serial number carved on the metal pickguard. It has 24 frets, Lo-Pro Edge tremolo bridge and DiMarzio Evolution pickups. The guitar is full of beautiful details such as the tree of life vine inlay on the neck. The sound is very clear and still powerful. Very high end guitar in every way.
I've been using my JEM10th in almost every studio session since and you can spot this guitar from several Lovex music videos. You can also see me using it on the upcoming new Delta Enigma music video in early 2022. I don't use it on live gigs though because I want to be extra careful with it. I also own other Steve Vai signature guitars as JEM 555, JEM 7VWH, JEM 77WDP, 7-string UNIVERSE and EP9 Euphoria acoustic guitar. Next guitar to my collection will be the amazing looking new Ibanez PIA3761XB. Steve Vai has an eye for beautiful guitar designs.
With my Ibanez guitars I use Mesa Boogie Roadster amp & Road King 2×12" cabinet. I've been using Mesa since 2007. It sounds powerful & pure and it is so reliable. It really meets my needs for a guitar amp. In addition I have several guitar pedals such as HBE Power Screamer, Morley Bad Horsie 2, TC Electronic Forcefield & FlashbackX4, STL Tones Revenant & Whammy.
I've been an official Ibanez artist since 2008 and damn proud of it. From the beginning of my musical journey Ibanez guitars got my eye. The looks & sound and playability is just what I want from guitar. I own 11 Ibanez guitars at the moment, loving every one of them. Couple years back I got my precious JEM 10th tattooed on my arm in honor for Ibanez and Steve Vai.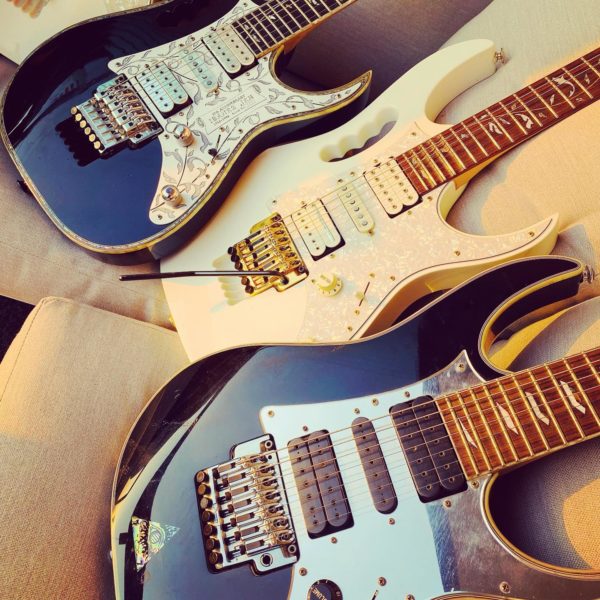 https://www.facebook.com/SammyBlackOfficial