I am Serge Simic, Canadian raised guitarist, born in Cambodia, Phnom Penh, August 23rd 1964. Presently residing in Belgrade, Serbia, I am working with the Blues Super Band – "Supersonic Blues Machine", as guitarist, back vocalist, and music composer on all three studio albums. (2 released and one upcoming release).
When you start guitar playing and do you remember your first guitar?
My music journey began back in the early seventies, in Wellington New Zealand, listening to my older sisters records of Jimi Hendrix, Deep Purple, Heart etc.. My first guitar I bought when I was 11..sold a new bike I got for my birthday from my dad for 35 Canadian dollars, the exact amount I needed to buy a Lero – Korean Fender Strat/Tele copy.. since I didn't have an amp, I played it for some time without even knowing how it really sounded! Guess my dad felt bad for me and somehow managed to buy a used 68 Fender Vibro Champ. Wow was I thrilled! But I couldn't figure out how to sound distorted and play my favorite Jimi Hendrix licks without sounding like I was playing with the Bee Gees..I soon enough discovered the Big Muff distortion pedal and I caught myself playing guitar 5 hours a day, every day after school!
What are your influences and which guitar players are your favs?
Definately Ace Frehley of Kiss. The first time I got my hands on Kiss Alive back in 1975, I was hypnotized by him and the band..the glam, the hard hitting riffs. I loved the simplicity in his solos..you can whistle or sing to almost every one. I remember one online guitar magazine writing about my playing some years ago, while I was in my band called The Slam..he said Serge's solos are like songs within a song. That was a great compliment to me, but it does sublimate my lead guitar playing. I was never into shredding and Fast as a Shark playing  As Robben Ford said, while him and I were backstage waiting to hit the stage, watching an opening band with their guitarist throwing out everything he knows "Too many tones" . Not my thing.
How many guitars do you own and what are your favorite models?
I have cut down on the number of guitars I own. I'm down to three guitars only and an acoustic I bought as a kid back in 1977. My "soul mate" and lifelong companion, The Gibson Les Paul Standard, Tobbaco Sunburst, which I bought in Ottawa Canada in 1978 as a fourteen year old boy. A black Leo Scala USA crafted boutique Dorian with 70s Super Distortion pick ups, and another crafted boutique piece, a White La Roque Explorer with a black Floyd Rose Seymour Duncan humbuckers. Of course my fav and number one pick is the Gibson Les Paul.
What do you think makes the perfect guitar and amp?
Short and simple..The person playing it 
How do you feel about the question of modeler or tube amp?
My preference is always the tube amp. I have been using Marshall Amps almost all my career, but I am now using DV Marks Multiamp a lot. In the studio, as well as at Live gigs. Great sound and versatility. I recorded most of the guitar tracks on it for the new Land of Gypsies album featuring Terry Ilouis.
Which guitars and amps were used on the new album or for recordings?
On almost all recordings I used my Gibson Les Paul 78 Standard. On the previous albums I recorded I used the DV Mark multiamp along with a Marshall JCM 2000 DSL Super Lead. For the last Supersonic Blues Machine I used DV Mark Triple 6 amps and my pedalboard set up with a custom made Fat Boy Drive by Goran Custom Guitars as my main tone..on the board I have a Friedman BE Overdrive pedal, an MXR Univibe, a Cry Baby classic Wah , Wampler tape echo and a frequently used Golden Throat Mouth tube. This set up I use in the studio as well.
When you only can choose one guitar, which one will you take?
Of course, The Gibson Les Paul Standard. It's my signature. Like I said buddies for life 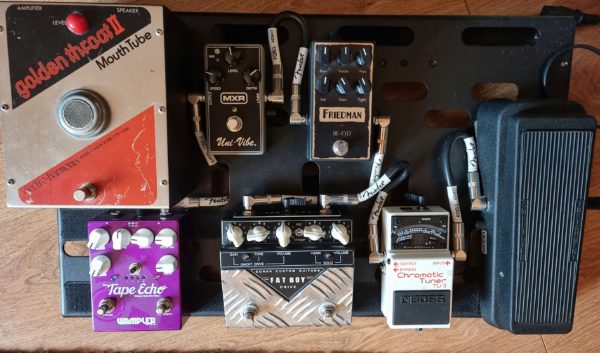 https://www.facebook.com/serge.simic
https://www.rockland-music.de/