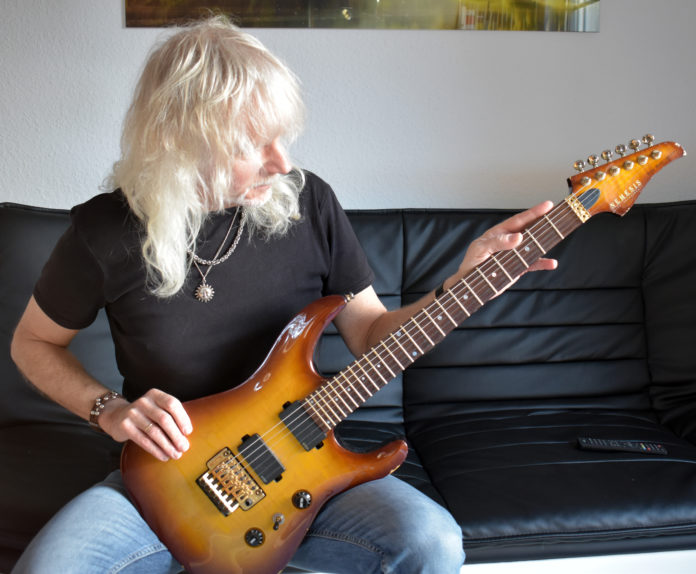 This article series is about the tools of popular guitarists. What are their favorite guitars and how is it related to them? This time with Steve Mann, who played with Lionheart & MSG (Michael Schenker Group).
1 Fender Musicmaster
I only ever sold one guitar and that was my very first one, after which I said I would never again sell a guitar. This was my first proper guitar bought in around 1973 so it must date from the late 60's/early 70's. I was still in my school band but starting to play the local rock scene in London and having a "real" Fender when Gibson and Fender guitars were the stuff of legend was an incredible feeling for me. It originally had just the one single coil pickup, but the previous owner added the Gibson Humbucker and a new scratch plate. The 2 pickups were pretty mis-matched, but I didn't care about that. Being technically a student guitar, the neck was short scale but was fast which I really liked.
2 Fender Stratocaster (USA)
Being a total fan of Ritchie Blackmore I had to have a Strat. The year I left school and before going to university I swept the roads to earn the cash to buy this new in 1974. The guitar came from Tempo Music in West London and the day I bought it I played all my favorite Blackmore licks that first evening and managed to snap the tremolo arm off! Luckily Jeff Baker at Tempo was very sympathetic and had it repaired free of charge. The guitar was my absolute pride and joy until a friend of a friend lent me a maroon pre-CBS Strat from the very early 60's which had allegedly belonged to Jimi Hendrix (didn't they all?) That's when I realized how badly made the 1970's Strats were! But it didn't stop me adoring my new Strat.
3 Gibson Les Paul deluxe
This was originally a gold top with the mini humbuckers and dates from 1966. After I recorded my first album with Liar and the producer John Alcock kept referring to my Strat as a "toothpick" I realized it was perhaps time to jump ship from Fender to Gibson. By this time, I was getting quite fussy and knew exactly what I wanted from a guitar. I was actually looking for a double cutaway Melody Maker or Les Paul as I loved the shape. I lost count of the number of new guitars I tried but none of them felt right. This was still the 70's and both Fender and Gibson, having cornered the market, were making guitars which frankly were pretty dire. I ended up going to a shop called Peter Cook Music a few hundred yards from my home in Hanwell and asked if they had a decent Gibson. Peter himself replied that sorry, they didn't have anything. So, I asked him what the guitar was on the wall right behind him. Good job I asked because when he finally noticed its existence, I tried it and realized that was finally the one. The guitar had been refinished as a red sunburst and the headstock shaved down in size to make it look like and early 60s Gibson. The small humbuckers had been replaced with large DiMarzio Super Distortions and the finish had been changed from gold to red sunburst. During Lionheart rehearsals back in the early 80s the headstock was accidentally broken off. Dick Knight in Guildford did the repair and refinished the guitar in my favorite tobacco sunburst. I was unhappy with the DiMarzio pickups because they seemed to lack emotion and warmth. At the time I loved Steve Lukather's sound, and I knew he used EMG 81s. So, I bought a pair from Valley Arts Guitars in LA just as we were starting the Lionheart album Hot Tonight. For me they were absolutely perfect, and I still use these pickups as my preference today.
4 Charvel
Not sure what this is officially called. I got it when I was in LA with the McAuley Schenker Group in 1988 and was offered a deal by Jackson. Charvel had just joined forces with Jackson, and this was one of the first Jackson Soloist style guitars they made, and it still had the Charvel logo on it. This is the guitar I used on the Anytime video. It came loaded with Jackson pickups which sounded very weak, so I replaced these with my favorite pickups, the EMG 81s.
5 Jackson Soloist 1
I think we were just about to hit the road with MSG when Jackson sent me a new guitar out of the blue. I remember being absolutely blown away when I opened the case and saw the beautiful red/yellow sunburst finish. The guitar was a little lighter than the Charvel and, after the customary swapping out of the pickups for EMGs, it sounded a touch thinner too. But I liked that as it took away some of the Charvel's muddiness. This quickly became my number one guitar and remained so until about 2009 when I bought the Flying V. When I rejoined Michael Schenker in 2016 this became my first guitar for that project.
6 Jackson Soloist 2
As we passed through Fort Worth on the first McAuley Schenker Group US tour Jackson came to the show and presented me with a gorgeous blue Soloist. It was one of the first models built in Korea and didn't quite have the same feel as Soloist nr 1 but it was very close. It became my backup guitar whenever I used Soloist nr 1, including when I was playing with MSG. The guitar came to a sorry end when we toured Japan in 2016. My flight back from Japan to Germany included a 9 hour stop-over in Beijing where the guitar was stolen while in transit from one flight to another. I never recovered this beautiful looking guitar and I have found out since that guitar disappearing in China is not an uncommon occurrence. I will be eternally thankful to my friends in Japan who searched the internet high and low to try and find the guitar and sent me countless possible leads. Sadly, none of them turned out to be my guitar.
7 Gibson Flying V
I think it was around 2009 when I bought this new. It was officially called a Gibson "V-Factor" (Gibson marketing never did make any sense). I went with my wife to an open day in our local music store and saw this hanging on the wall. I don't know what it was, but something kept saying "try it, try it". So, I did try it and immediately realised it was pretty much the guitar of my dreams. I kept playing it in the sound proofed room and just couldn't stop. It had that amazing Andy Powell grinding sound which I had loved so much as a Wishbone Ash fan back in 1972. We actually went back home, and as we got there I said, "I'm sorry, but I just have to have that guitar". So back we went to buy it. It had the faded finish which I really liked, and I have never regretted its purchase because I just played it non-stop, which as a consequence improved my technique considerably.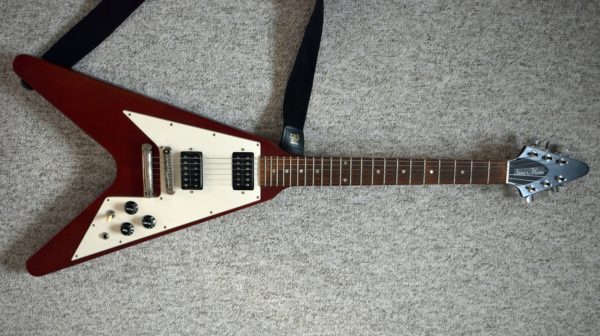 8 Fender Stratocaster (Mexico)
Back in 1972 when I bought my first electric guitar, I had just discovered Eric Clapton. I used to jam along with the Goodbye Cream and Layla (Derek and the Dominos) albums until there was no groove left. My style still contains many elements of Clapton's blues runs. I used to dream of owning the guitar on the back of the Layla album and I just happened to see what I thought was "THAT" guitar in a bargain center in Southall, West London. It cost £13.50 so I put £3.50 up and the other £10 I had from my parents as an early birthday present. Well, it wasn't THAT guitar of course, but it didn't hinder what became a life-long love affair with the guitar. When I needed a second Strat a few years ago, I decided I eventually had to own a tobacco-sunburst Strat, complete with single-ply scratch plate, maple neck and small headstock. Of course, it's not Brownie, but at least it looks like her.
9 Nemesis Requiem (Steve Mann signature model) (see title photo)
Nick Prendergast is an extraordinarily talented luthier. He had asked me several times if he could build a guitar for me, but I couldn't justify that at the time. However, when the blue Soloist was stolen, I needed a replacement. So, I decided to give Nick a crack of the whip. Over the year from 2016 to 2017 we stayed in constant contact, and he would get specs and requirements from me and send me progress pictures. I decided this would finally be my dream guitar. I took initial delivery at a Lionheart rehearsal in 2017 and I just couldn't believe he had got everything right. It is an extraordinary guitar. The fretboard is beautiful and very fast, has a Gibson scale length. The guitar is finished in my beloved tobacco-sunburst. With gold hardware and EMG pickups. Because I was spending up to 3 hours on stage with Michael Schenker Fest with the guitar hanging on my shoulders while I played keys, I needed a light guitar. The guitar has chambers under the maple top which reduce the weight but keep the balance of the guitar. These chambers had an added bonus. In combination with the EMG's lead notes adopt a "crying" sound, like a wah-wah but without the wah. I loved this sound so much that I subconsciously nurtured it in my playing and over the last 4 years the guitar seems to have responded. This is now exclusively my main guitar. I am intending however to have another Nemesis built for me.
https://www.facebook.com/lionheartrock
https://www.rockland-music.de/