Bildnachweis: Dennis Stratton
This article series is about the tools of popular guitarists and bassists. What are their favorite guitars or basses and how is it related to them? This time with Dennis Stratton, who plays guitar for Lionheart, Iron Maiden, Praying Mantis and Remus Down Boulevard.
This is where it all started. 1975. I got the Les Paul custom while I was with RDB. Remus Down Boulevard in time for the 2 tours we did with Status Quo. I got the other Les Paul when we got home. The custom went on to do all recordings, videos, tours and television with Iron Maiden. The same guitar was then used with Lionheart and Praying Mantis on all recordings tours videos and TV. It still has the little dig at the top where I knocked my front tooth out on the drum riser in Germany with Iron Maiden supporting Kiss. This Les Paul is up for sale.
Next came the Caparisons. Praying Mantis toured Japan a lot as we had a Japanese record company. We were endorsed by Charvel Jackson and the guitars were great. So it was time to say goodnight to the Les Pauls and hello Charvel Jackson. I had 2 guitars that were fantastic. Around mid 90s Charvel parted company with Jackson and Mr Itaru Kanno left the company and started Caparison. We were one of the first bands to get the new Caparison guitars. They were amazing. We used them all through the years that Mantis stayed together. Also fitted with my favourite pickups EMG. I still use these now with Lionheart. Unfortunately the Charvels were stolen in London so can't include them here. Also look closely at the fret inlays. It's the Mantis logo.
While with Praying Mantis in Japan we did a tour where the intro for a song was played on acoustic guitars. So Caparison presented me with this Takamine. Beautiful guitar. I now use this on all tours, recordings and videos with Maiden Utd, a fantastic band from Holland which is run by Joey Bruers. The artists in this band come from Within Temptation – Ruud Jolie, Sharon Den Adel, Mike Coolen, Pertru on cello apocalyptic. Damian Wilson. And many more.
When RDB first got together mid 70s we were big fans of Wishbone Ash. Their harmony guitars were great. So we covered many of their songs. So I got myself a Flying V copy as we had no money. I even wore a cap similar to Andy Powell. This harmony guitar sound I took into iron Maiden giving Maiden that distinctive guitar sound. And very pleased they carried it on after my departure. This sound was used in all Mantis songs and is still used now in Lionheart. And I'm so pleased that my great friend and guitar partner in Lionheart Steve Mann loves that harmony guitar sound as much as me. So move on and it's my 60th birthday. My lifelong friend and guitar partner from RDB Dave Edwards who I still sometimes play with now bought me a real Gibson Flying V and at the bottom a silver badge engraved from him to me. Thanks Dave.🎸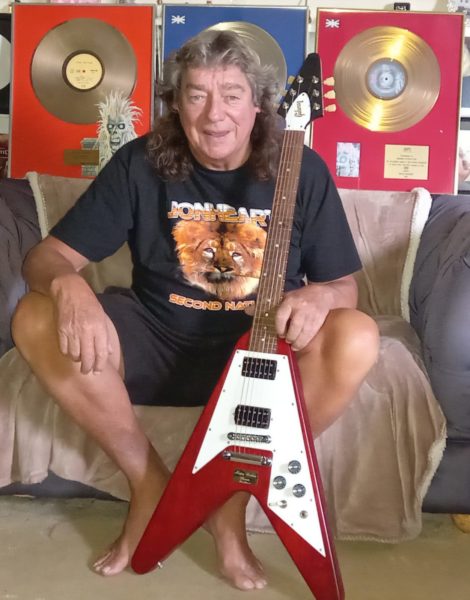 So. To the guitar I use now apart from playing with Lionheart as I said I use the Caparisons. This guitar is a Macpherson. About 10 years ago my good friend Dan Macpherson had a workshop in Southend Essex where he made guitars. Fantastic work and you can see all the range of his guitars in his catalogues or website. He was moving to Canada and asked me could he build my signature guitar. I said yes but it had to be the same layout with volume and tone knobs and pick up switch in the same place as the white Caparison as I play with my eyes closed. This is the finished guitar. Look closely, it has my initial D in the inlays. My signature with Dan's at the top. A great job. Thanks Dan 🎸
This last guitar was made by my lifelong friend and guitar partner from RDB, Dave Edwards. It's a great piece of work. Dave makes all his guitars and is in demand to make guitars for a lot of musicians. He's always wanted to make one for me and here it is. I'm getting used to it as its slightly different from the Caparisons and Macpherson but it's fantastic. thanx Dave 🎸