Bildnachweis: Photo: Laguz Photograph
This article series is about the tools of popular guitarists and bassists. What are their favorite guitars or basses and how is it related to them? This time with Nikolas Eckstein from WISBORG.
Pic: Amber Laguz
Hey, Nikolas Eckstein from WISBORG here, and I'm gonna tell you something about my beloved Hagstrom guitars. Even though I started playing guitar at the age 15, I just began considering myself a guitarist about 5 years ago when I started WISBORG with my friend Konstantin Michaely. I played bass in different bands before that, where I got in contact with Hagstrom guitars. One of the guitarists played one and I always adored the look and sound of it. This red Hagstrom Super Swede Tremar means a lot to me and was the only guitar I had for a longer time, simply because it did the job so well, I never felt the need of using another one. I used it on all three WISBORG studio albums, in all music videos and I played it on every single concert until now. It never let me down (not even a single string snapped in all those years).
It still has the original Hagstrom Custom 58 Pickups onboard, which are good for a big variety of tones. Especially high gain sounds,which I use most of the time, sound fantastic. It is kinda heavy compared to other models I played, but I like it that way by now and feel like there's something missing if I play lighter models. The sound of all three toggle switch positions are very full and clear, which may be a reason why I never needed anything else for the various genres we encountered with our songwriting over the years.
Recently I got the black Hagstrom Viking, because I always liked the characteristic clean tones of hollow and semi-hollow guitars. The viking absolutely does the job and due to the sustain block it can handle heavily distorted sounds as well. It has HJ 50 humbuckers, which sound as clear as the Custom 58's of the Super Swede Tremar. I like shredding clean sixteenth notes with a lot of reverb for ambient soundscapes – the Viking is great for that. When it comes to amps and effects in the live context, I switched from analog to fully digital. I started out playing an Orange TH 30, which I still use in the studio, and many different classic Boss, Digitech & Electro-Harmonix pedals (e.g. Big Muff, DD-3, DS-1…). With our music encountering a more and more diverse range of sounds, I needed to update my workflow to a simpler level. I switch between guitar and keyboard within songs at our shows, that's why I work with the Line 6 Helix now. That made a lot of things easier for me.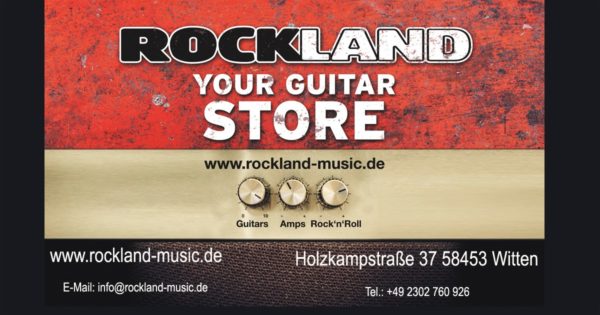 ---
Anzeige
Werbung mit Transparenz! Durch den Einkauf von Produkten über die hier gesetzten Amazon-Links kann das Fan-Projekt darkstars.de Provisionen erhalten, was aber für die Käufer preislich kein Nachteil ist. Siehe auch Projektfinanzierung darkstars.de.
Letzte Aktualisierung am 6.12.2021 / Affiliate Links / Bilder von der Amazon Product Advertising API