Bildnachweis: Florian Reith
This article series is about the tools of popular guitarists and bassists – this time with Hubi Hofmann, live and studio bassist for GumoManiacs  and Radio Haze  (among others), and music producer at Slash Zero Records  , who has also worked for Mass, Strike Master, T.G. Copperfield , 3 Dayz Whizkey, Burden Of Life, All Will Know, AntiPeeWee, Space Chaser, The Prosecution, The Platters, and many more…
Pic: Manuel Gruber
When and why did you start playing bass and what was your first bass?
It must've been 2003/2004 at the age of 17, when some skateboarding friends of mine needed a bass player for their band. Back then I didn't even know what a bass was but I was pretty much into NOFX at that time and found out that Fat Mike played a Hohner bass, so I went ahead and bought a similar model (Steinberger Spirit – the headless one from the 80's a.k.a. 'The Paddle') because it looked weird and was fairly cheap.
Pic: Manuel Gruber
What are your influences and favorite bass players?
Well, there are too many influences – life being the most obvious one – but when it comes to bands and their bassists I'd like to break it down to different genres: I started playing punk rock bass lines by Fat Mike (NOFX), Matt Freeman (Rancid), Chris #2 (Anti-Flag) and Hunter Burgan (AFI), then I went on and learned everything from rock/metal bassists like Steve Harris (Iron Maiden), Cliff Burton (Metallica), John Myung (Dream Theater), Thomas Miller/Michael Lepond (Symphony X), Duff McKagan (Guns N' Roses) and Flea (Red Hot Chili Peppers). By 2006 I was finished with school and rejected studying psychology at university so I figured studying bass was the second best way to go… From 2006-2009 I studied at Bass School Munich and found out that there were even more cool bass players like Bernie Edwards (Chic), Stuart Zender (Jamiroquai), James Jamerson (Motown), Mark King (Level 42) and of course Jeff Berlin, Victor Wooten, Marcus Miller and Jaco that I could learn from. By 2009 I was playing around 70 shows per year with every band that needed my help – no matter if it's a rock/metal-, jazz-, wedding-, cover-, party- or big band gig. When there were no gigs I attended Music College Regensburg from 2009-2012 to get an official music education license as instrument teacher. During that time I was also very active as session bassist (for producers/film composers like Stephan Ebn, Christoph Zirngibl, Helmut Zerlett, Andreas Weidinger, or Detlef D! Soost, just to name a few) and learned a lot about music production, so I decided to start my own recording studio and learn even more studying at Berklee College Of Music from 2012-2014. The rest is history (and of course also present and future).
Pic: Uta Heid
How many basses do you own and what are your favorites?
I'm one of those bass minimalists owning only, erm, let me count… Starting with the aforementioned Steinberger Spirit, I soon needed a bass that actually looked cool at rock/metal gigs so I bought an ESP Ltd 30th Anniversary B-2005 which you can hear on all GumoManiacs releases. And I needed a 6-string to play Dream Theater so I got me a turquoise Yamaha RBX6JM that can be heard on all Radio Haze releases until 'The Growth' (2010). But when I had to play 6-8h shows with wedding- or party bands where the metal axe just wasn't a good fit and the 6-string was overkill in terms of strings and weight, I needed an all-in-one go-to work-horse – my MusicMan Sterling 5 with two humbuckers, which since 2010 has been my main bass for everything not metal (as heard on hundreds of records since then). I also own a Fender Jazz fretless bass that I only use for jazz gigs or fretless solo action once in a while when my upright bass skills aren't good enough. In 2021 I had the honor to be asked to endorse George Fullerton and Leo Fender's G&L company and get my own custom bass built (which is based on their L-2500 model). Of course a G&L isn't a Fender nor a MusicMan, but for 90% of all studio and live gigs I can work with this one for now, because I can get almost all possible sounds out of it. So to answer the question: I currently own 6 basses and an upright bass, and my G&L Hubi Hofmann custom bass is my favorite one.
Pic: Alexey Testov
What amps and pedals do you use, and do cables or strings matter to you?
Back in 2012 I signed an endorsement contract with Thomas Eich's Tecamp company which soon rebranded to Eich Amplification, so my one and only amp is my Eich TR900 with a 612 XL Eich cabinet that never ever let me down. I don't use a whole lot of pedals as most of my playing is in my fingers, my instrument and my amp, but I do use a Boss Chorus, a Boss Overdrive, and a Polytune at live shows. For cables, I endorse and exclusively use Sommer Cable. I've tested lots of really good sounding cables before signing with them, but when it came to handling, ease of use, and accessability Sommer was a clear winner to me. Strings definitely do matter too: I used to play Strings By Aurora exclusively but they recently lost their distributor in Europe so I'm currently talking to some other companies about potential collaboration.
Pic: Alexey Testov
Anything else to add?
Yeah, my main bands Radio Haze and GumoManiacs are currently promoting their latest records 'Strangers'  and 'Morbid Tales Of Terror' , so after reading about me and my equipment, maybe you're also interested in listening to some music of me using that gear…

Special thanks go out to Darkstars.de for the feature and of course to G&L Instruments, Eich Amplification, Sommer Cable, Steph Guitar Straps, Strings By Aurora, KS Digital Speakers, Guitar Pro Software and Musik Wein for providing neat gear. For more info head over to www.hubihofmann.de …

Video 1 (Hubi Hofmann's TOP20 Basslines)
Video 2 (Radio Haze – From Birth To Cemetery)
Video 3 (GumoManiacs – Poetry In Black)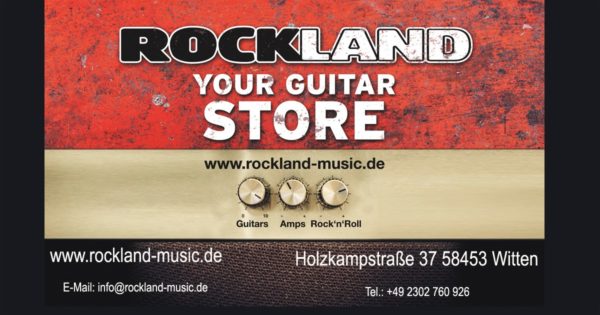 ---
Anzeige
Bestseller Nr. 1
Heavy Metal Einhorn Metaller Rock Festival Musik Geschenk Pullover Hoodie
Bist du auf der Suche nach einem passenden Geschenk? Dann solltest du dieses herausragende Design kaufen! Die Leute werden dieses coole Motiv lieben. Tolles Geschenk für deine Mutter, Vater, Großvater, Großmutter, Onkel, Tante, Schwester oder Bruder.
Eine ideale Geschenkidee für Liebhaber und Fans ob zu Weihnachten oder zum Geburtstag. Eine großartige Überraschung für jeden besonderen Anlass wie Vatertag, Muttertag und jedes andere Jubiläum. Papa, Mama, Opa oder Oma werden sich darüber freuen.
8.5 oz, Klassisch geschnitten, doppelt genähter Saum
Angebot
Bestseller Nr. 2
Marvel Hoodie Herren, Oversized Hoodie Decke, Übergroßer Pullover Herren, Avengers Fanartikel
OVERSIZED MARVEL PULLOVER --- Unser oversized Herren Pullover ist ein offizieller Marvel Fanartikel, der Avengers Fans begeistern wird. Unsere Hoodies für Männer sind kuschelig-weich und verfügen über eine praktische Kängurutasche und Sherpa Fleece Futter in der Kapuze. Der übergroße Kapuzenpullover für Herren ist das perfekte Relax-Outfit.
ONE SIZE FITS MOST --- Unser Marvel Hoodie Pullover ist erhältlich als gemütliche, übergroße Einheitsgröße. Mit Hilfe der Größentabelle in der Bildergalerie können Sie sich vergewissern, dass das Hoodie Blanket eine angenehme Größe hat.
OFFIZIELLES MARVEL MERCH --- Unser Oversize Hoodie Herren ist ein lizenzierter Marvel Fanartikel der offiziellen Marvel Merchandise Kollektion. Sie können sich bei unserem Herren Hoodie also auf eine hervorragende Qualität verlassen. Der Avengers Hoodie zeigt die Superhelden Captain America, Spider-Man, Iron Man, Hulk, sowie das ikonische Marvel Logo.
SANFTER FLEECE STOFF --- Der Oversize Hoodie Herren ist aus sanftem Fleece Stoff gefertigt und somit warm, bequem und angenehm (100% Polyester). Der Männer Pullover wird garantiert zu Ihrem neuen Lieblingsoutfit für ruhige Abende und entspannte Wochenenden. Der oversized Hoodie Herren ist zudem leicht zu reinigen und trocknet schnell.
GESCHENKE FÜR MÄNNER --- Unsere Marvel Herren Hoodies eignen sich perfekt als Herren Geschenke. Überraschen Sie Ihren Liebsten mit diesem tollen Oversize Pullover Herren.
Bestseller Nr. 3
Werbung mit Transparenz! Durch den Einkauf von Produkten über die hier gesetzten Amazon-Links kann das Fan-Projekt darkstars.de Provisionen erhalten, was aber für die Käufer preislich kein Nachteil ist. Siehe auch Projektfinanzierung darkstars.de.
Letzte Aktualisierung am 8.12.2021 / Affiliate Links / Bilder von der Amazon Product Advertising API