Bildnachweis: Lars Andersson
This article series is about the tools of popular guitarists and bassists. What are their favorite guitars or basses and how is it related to them? This time with Bjorn Englen, who played with Yngwie Malmsteen`s Rising Force, Quiet Riot, Soul Sign, Dio Disciples and many more others.
When you start bass playing and do you remember your first bassguitar?
In 1984. My first bass my parents got me through mail order. I still have it today and I did all sorts of modifications to it including re-painting it three times and scalloping between the frets.
What are your influences and which bass players are your favs?
I'm influenced by all sorts of music and life. My favorite bass players are Billy Sheehan John Paul Jones and Steve Harris. I also like Marcus Miller and Michael Manring a lot.
How many basses do you own and what are your favorite models?
I honestly lost count but I think I have about 30. My favorite models are my Ibanez Talmans. but I like all my Ibanez basses. They are wonderful (very well built) and it's a wonderful company to work with. The quality control and artist relations is outstanding.
What do you think makes the perfect bass and amp?
EBS. Nothing compares or comes even close. And I'm serious when I say that. They are very natural and honest in the sound response. When you plug your bass into them you still sound like yourself, plus you have many options to alter your sound with the best built in compression, overdrive and EQ available. Their pedals are fantastic as well. I have endorsed their amps and pedals fully for nearly 19 years. A truly great company and they treat me like family.
When you only can choose one bass, which one will you take?
My blue Ibanez Talman Prestige 4-string
Photo: CSNYPRO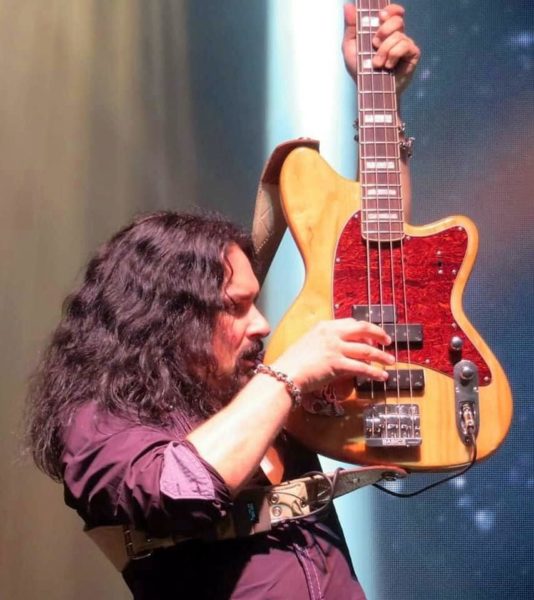 Photo: Ray Goyette
https://www.facebook.com/BjornEnglenPersonal
https://www.rockland-music.de/