This article series is about the tools of popular guitarists. What are their favorite guitars and how is it related to them? This time with Marcel Coenen (Ayreon)
My main guitars are handmade guitars from a Dutch Guitar Builder called Huub Boel.
I met him back in 2005 when I was doing a guitar clinic in The Netherlands.
He let me try one of his guitars and I loved the quality and sound of the instrument.
Huub then contacted me some weeks after that event and proposed me to build a guitar around my specs, that became the MC model, this was the best selling guitar that the small company of Bo-El Guitars produced. The guitars are there in several different specs, so there are 6 and 7 string models, models with Tree Of Life inlay or Shark or Dot Inlay, different pickup/switch configurations, tremolo's etc. My own guitars all have the Floyd rose tremolo's and a 3-way toggle switch for the pickups. Further there is a switch to put every pickup to single coil or to out of phase.
I also use Dean ML models, I have two of them, these I mainly use when I play with my Pantera tribute band.
For acoustic guitar I use a Yamaha APX 700, I love the playability and the sound of this guitar. Then my amps: I used to own a lot of different amps throughout the years, I started with the first BIG amp, that was a Marshall JCM800 100 Watt amp back in the 80's, I used this amp together with some pedals, later with a 19"rack consisting of a Peavey Rockmaster pre amp and a Rocktron Replifex. This Marshall amp I sold at the end of the 90's for a Marshall JMP1 Pre-amp (changed the Peavey for this one) with a Mesa Boogie 290, this rack I used for several years and can be heard on many of my albums, like Sun Caged and my solo albums until Colour Journey. I changed to using a head amp again back in 2009, Laney contacted me and I tried some amps. I ended up with a Laney VH100R and used that for some years. I love the versality of this amp.
For effects I kept using the Replifex for quite a while, until I switched to more modern stuff, the Boss GT100 and later the GT1000. After Laney I had an EVH 5153 amp for a while (50 watt) but I was always looking for that Marshall tone in all the amps I owned, so more recently I changed back to Marshall, the JVM410h, which gives me also a lot of flexibility and great tone!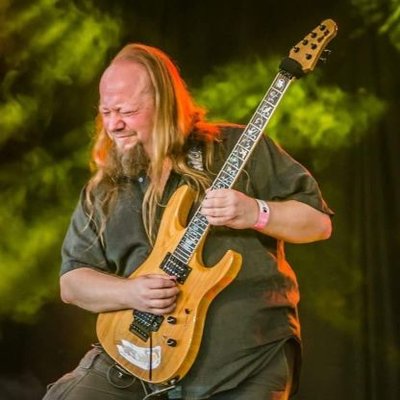 The effects I also changed from Boss to Line 6 Helix. I use it in 4 cable method with my Marshall. I also use a Poweramp to make my sound stereo. For live I send my sound from the helix to an Impulse Response from OwnHammer with my Marshall in the loop of my Helix. Sounds great over the PA. I have some side pedals that I use, a Digitech Whammy DT, a MXR Phase 90 , a Korg Tuner and a Line 6 G50 Wireless. I use Swiss Picks 1.30 for picking. I also use a Torpedo Captor X for silent recording and for live to make my cabinet more silent. My cabinet is at the moment a Laney with mixed G75 and V30 Celestion speakers in X pattern.
Marcel Coenen Signature Guitar, The Bo-El MC model specs:
Body: Selected 2 parts centerline swamp Ash.
Neck: All access, Hardrock maple set neck
Fretboard: Rosewood with binding, Tree of Life inlay, 24 Medium profile jumbo frets
Pickups: 2 Bo-el HB-SD/1 Humbuckers
Controls: Volume pot, push-pull tone pot with phase switch, mini toggle switch
Pickup Switching: 3-way switch
Bridge: 6 string TRS "pro edge" Floyd Rose tremolo with push-in arm
Scalelength: 647,7 mm/25.5″
https://www.rockland-music.de/