This article series is about the tools of popular guitarists. What are their favorite guitars and how is it related to them? This time with Phil Johnson (Mastiff).
Brutality of tone is the key fundamental I look for in my guitar equipment.  I'm not too worried about achieving a wide, diverse range of tones, what I'm always trying to refine is the most violent, tight and aggressive rhythm guitar tone possible.  Here are my guitars and some other equipment I use to achieve the 'world imploding' Mastiff sound.
Guitar #1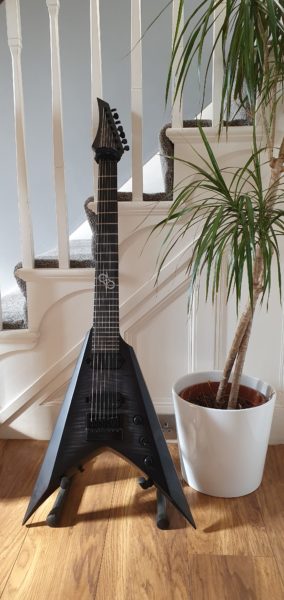 Solar V 1.7FBB – This is my most recent acquisition and probably the nicest guitar I've ever played.  It looks like a weapon and the build quality is superb.  The action is incredible low and comfortable and the Duncan Solar pickups are brutal: tight, focused and definitely able to cut through the mix. The Evertune bridge took a little figuring but now it's 'in' it's great and combined with locking tuners it means this is a reliable and study stage choice.
Guitar #2
Schecter C7 Pro – Charcoal Burst.  This is a great looking and great value guitar.  The neck is flat and fast and the poplar burst top is reminiscent of a guitar 3 times the price.  This guitar really got me into 7 strings.  The Schecter proprietary brand pickups are suprisingly good.  Would definitely recommend one of these to anyone wanting to try a 7 string without it costing 4 figures
Guitar #3
Squier Contemporary Active Strat Modded.  This started out as a really solid Squire Contemporary Strat that I got 2nd hand for £200.  I loved the matt black finish and the reverse headstock.  However I found the pickups to be a little tame compared to EMG 81 loaded guitars that I've used in the past.  Guitar Setups Hull did a great job of gutting the guitar and replacing the stock pickups with a single EMG 81 with a nickel cover.  The black on black scratch plate makes this an ultimate stealth beast.  And another bonus is the floyd bridge for the odd dive bomb.
Pedal board – this is a pretty basic setup for creating a heavy tone.  I've got a retro looking Snark tuner to start followed by a Horizon Devices Precision Drive.  This really tightens up the front end of my amp giving me the type of rhythm tone I like with plenty of mids giving a 'punch to the gut' effect.  After this is a TC Electronic EyeMaster (HM2 clone).  I don't use this on any current tracks but the idea is to use this through the clean channel of the amp allowing me to access a chainsaw type Swedish tone if I so desire.  We may well incorporate this tone into some upcoming new tracks.  Then I have a Boss noise supressor to try and fight the feedback.  After that I've got a Digitech Ricochet Whammy, this makes squeals extra squealy.  Then to finish I've got two cheap Behringer modulation pedals.  This is an idea I got from Knocked Loose who use a double stomp technique to trigger both delay and chorus.  The cheap pedals give an ultra synthetic flavour which I like.  Again, currently I don't use these pedals on any recording but I'd like to work them into our future writing.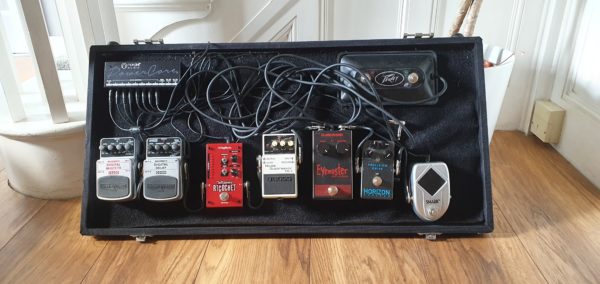 Amp – The ubiquitous Peavey 6505 120W guitar head.  This is pretty much the industry standard amp for heavy guitar sounds.  It's built like a tank, something my lower back can attest to, and they're not prohibitively expensive.  It's no frills, no fuss just loud and nasty.
Thanks for reading and do check out the videos for the singles from our latest album:  Leave Me The Ashes Of The Earth
Follow Mastiff: https://www.mastiff-hchc.com/
Instagram: https://www.instagram.com/mastiffhchc/
Facebook: https://www.facebook.com/mastiffhchc/
Twitter: https://twitter.com/Mastiffhchc
Spotify: https://open.spotify.com/artist/75zyZ…
Apple Music: https://music.apple.com/us/artist/mas…
Bandcamp: https://mastiffhchc.bandcamp.com/
https://www.rockland-music.de/