This article series is about the tools of popular guitarists. What are their favorite guitars and how is it related to them? This time with Walter Cianciusi (Headless, Geoff Tate Band).
I have been playing Gibson SGs for most of my life. Over the years I have owned many: Standard, Special, Reissue, Melody Maker, Custom. Being small in stature I have always found them particularly comfortable! The most recent Gibson purchase dates back to 2015. While recording Melt The Ice Away (Headless), I found a rare opportunity online. A late 1990s SG-Z in particularly good condition. I had wanted it for a long time and when I finally found it I didn't let it slip away. It has a peculiar electronic configuration. At the bridge there's a Gibson 500T pickup, the most aggressive pickup ever made by Gibson. Its output is even higher than that of the Tony Iommi Signature.
But when in 2018 I started working together with Geoff Tate, I felt the need to have a guitar equipped with a Floyd Rose, to faithfully reproduce all the parts of Chris DeGarmo. That's when my love for Superstrats began. I started with an EVH Wolfgang Standard, a state of the art budget guitar. Its intonation remains immaculate even after violent gestures on the neck and vibrato bar. It's fantastic but maybe a little too heavy. The LTD M-1000 that I received and customized immediately afterwards has the advantage of integrating two EMG-81 active pickups: I assure you that using the in-ear monitors I am very attentive to the background noise produced by the instruments and the LTD is the most quiet guitar I've ever had!
Finally, for the filming of the latest Headless video clip, I wanted a special guitar, which would take our fans back in time, to the mid-80s. What better choice than the Kramer Baretta? This is a really super cheap version, a super deal! Now I have to modify it, replacing the pickup with a JB, the switch with a push / pull and the bridge, probably with a Kahler.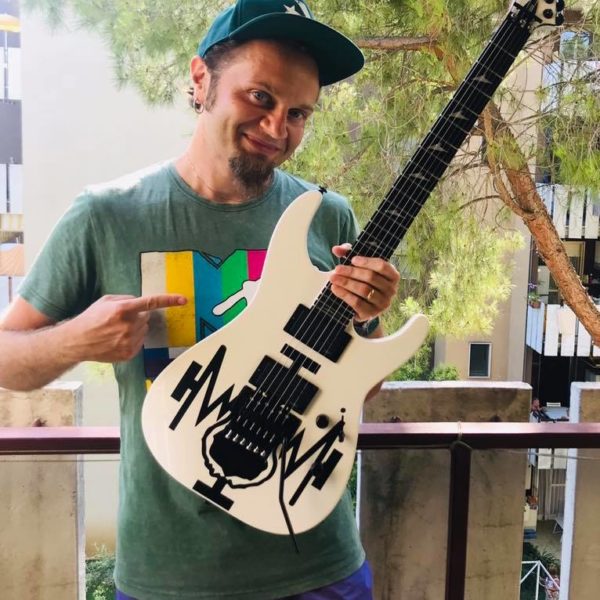 I hate anyone who spends tens of thousands of dollars to get custom instruments. I am convinced that even the cheapest guitars are seriously useful both in the studio and on stage!
https://www.facebook.com/headless.italy