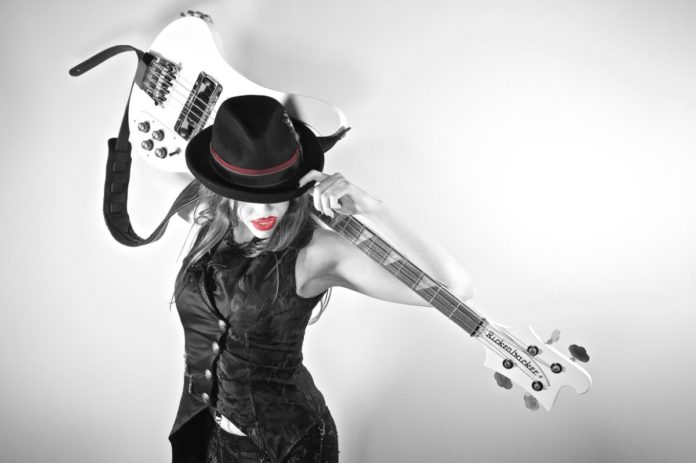 This article series is about the tools of popular guitarists and bassists. What are their favorite guitars or basses and how is it related to them? This time with Keira Kenworthy.
Bio Keira: Born in Melrose, Scotland, daughter of a rock drummer. Keira picked up the bass in her early teens and then went on to study at the Leeds College of music. She has been dubbed the 'mistress of groove' and her playing style has been developed from her diverse influences including James Jamerson, Andy Fraser, Neil Murray, Alan Woody, Nathan East, Jaco Pastorius and Victor Wooten. She excels at playing a wide variety of musical styles including rock, blues, funk and soul and has established herself as a go to bass player and is building a sizeable following. She was a founding member of Syteria, featuring Jackie Chambers of Girlschool who she played for 5 years before joining the critically acclaimed band JoanOvArc. She has toured the UK and internationally and appears on several recordings. She has toured with Australian rockers Tequila Mockingbyrd and orchestral art rock band The Red Paintings. Keira has collaborated with Tal Bergman, guitar great Haim Romano, Adar Avisar, and others. When not touring she teaches students in both the UK and USA. JoanOvArc have just completed recording their 3rd album and are about to embark on a UK tour. Other current projects include playing bass for all female Deep Purple Tribute band Diva Purple, and touring bass player for acclaimed British Blues Guitarist Troy Redfern.
When you start bass playing and do you remember your first bassguitar?
I started playing bass when I was about 14 years old, but I can remember receiving my first ever bass guitar when I was about 10 or 11. It was Christmas Day, and I got a really cute short scale Daisy Rock Blackheart bass. My sister who was an art student at the time created a fluffy guitar strap for me to go along with it.  I wouldn't say I took bass up there and then the moment I laid eyes on it, but a few years down the line I sure did. I did originally have intentions to become a drummer like my dad, but it didn't go so well. Especially when I failed my practical exam on drums at High School [Laughs]. Always when it came to music, I was fascinated by the rhythm section, I didn't really care so much for the guitar and there were so many guitarists out there. The bass guitar in my opinion always seemed to be overlooked and wasn't this "sexy" instrument people wanted to take up as a kid. But that's just because no one has given it a chance to see what it is capable of.
What are your influences and which bass players are your favs?
My true influences gradually came to me the more I practised. Obviously when I started playing the first names that came to mind were Nikki Sixx and Lemmy because of their larger-than-life personas and listening to Rock and Heavy metal but musically they were just a starting point for me. When I really wanted to take this seriously, I broadened my horizons with different music and looked at the greats. We had a series of bass books in the house, and we had a book filled with Jaco Pastorius bass lines and I think that really introduced me to a whole new level of bass playing. Norman Watt Roy as well was an early influence, I remember trying to practise 'Hit me with your Rhythm Stick' by Ian Dury and the blockheads every single day. [Laughs] James Jameson showed me you can make an interesting bassline with syncopation and melodic runs and sneak it into a commercial pop song, along with that unique warmth and feel that those 60s bass lines give you. Other players I credit as an influence are Neil Murray, Billy Sheehan, Nik West, Les Claypool, and Andy Fraser.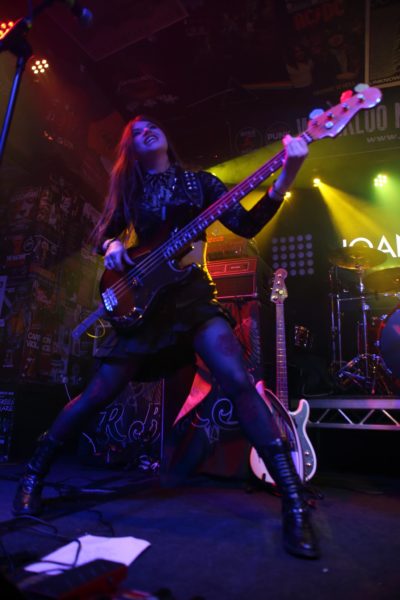 How many basses do you own and what are your favorite models?
I think I'm starting to lose count now of what I own. Just bought another bass this year. Oh God I also am in the process of having a bass guitar being made for me and this will my second guitar which Les Godfrey has made for me. [Laughs]  So far there is 11 basses in total including my upright NS Design CR4M. By far one of my favourite models is the Fender, always have used them for every show I've done, and I have my Dimarzio pickups along for the ride. But I also have my go to guy in Canada Les Godfrey, to create one off basses just for me too. [Laughs] Just out of the blue he contacted me on Instagram one day and messaged me "Please let me build you a custom bass!!! Sincerely, sending best regards from Canada!" and my first thought yeah right. [Laughs] I saw his work amazing guitars and basses going for quite a bit of money. It sounded too good to be true and how often do I get someone coming to me saying I gonna make you your own bass. This lass all the way from England who isn't in like a super known band and what not, and he wants to make me a bass for me?? Hmmm But Les is such an amazing guy and most certainly a man of his word and he did it.
What do you think makes the perfect bass and amp?
Everyone has a different idea of what a perfect bass and amp is. I think for me personally with an amp you want something that can shift a lot of sound. Has a wide range of tone control and if you don't have the luxury of roadies one that is light to carry. I have noticed bass players going for amp heads that you can pick up with one hand. Markbass has been my favourite amp, not only for warm and punchy tones but the fact it is so easy to carry around with you. Even the cabs aren't hefty. As for a bass guitar I like to have a low action, Med-light strings, and powerful pickups. My Fender Fullerton P Bass has all of these. GHS Med-Light Bass Boomers gives me that perfect balance of brightness and heaviness when I play. My Dimarzio Relentless Pick ups pack a hell of a punch in output sound, the bass sound is fuller and balance across tonal range.
When you only can choose one bass, which one will you take?
My 82 Fender Precision Bass