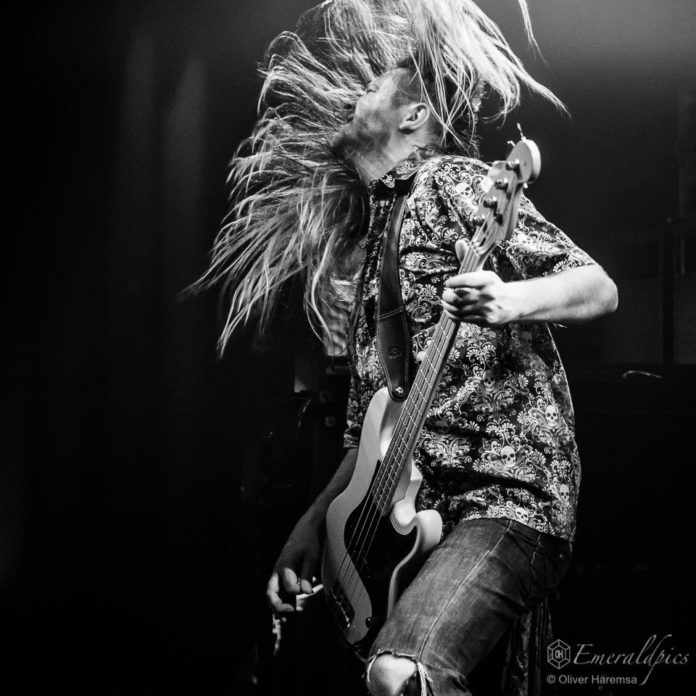 Bildnachweis: Oliver Haremsa
This article series is about the tools of popular guitarists and bassists. What are their favorite guitars or basses and how is it related to them? This time with Dominik Stotzem, who played with Enemy Inside, Sonic Haven, Synchronic, PURPLE RISING and Beyond the Bridge.
Pic: Andreas Hölzle
#1 – When you start bass playing and do you remember your first bassguitar?
My musical career in the school band began at that time as a singer. However, I was so horrible on the microphone that my bandmates begged me to play the bass, because this position was currently vacant. I couldn't pluck a note, but I knew the new bass should be black. So I went to the local music store for advice. A few minutes later, a black Yamaha five-string was mine and I started to figure out how to use it in a band context.
#2 – What are your influences and which bass players are your favs?
I figured out sometime a few years ago that it doesn't make sense to emulate your so-called idols. Rather, I focused on making my performance look authentic. With each recording I learned more about my own style. With each guitarist I worked with, I learned more about my left hand – with each drummer I learned more about my right hand. And at some point, my playing became song-serving as well. However, I have to say that I adore some upper-world bass players and enjoy watching them play very much. First is John Myung of Dream Theater, he embodies my understanding of prog metal like no other. Then there's Billy Sheehan of Mr. Big and also Steve Harris of Iron Maiden, who have shaped their own unique sound. Also the fellows Victor Wooten and Marcus Miller impress me a lot, there are so many kick-ass guys doing things I can't even comprehend. For example, the bass player from Leprous, who changed a string during the song – that is, while he was playing. And then there's one or two social media stars who absolutely blow my mind. Probably the strongest performance since ever is delivered by Flea from RHCP, I think that's still the case today. Amazing guy and groovemonster!
Pic: Selina Waege
#3 – How many basses do you own and what are your favorite models?
In the long run, I have a favorite bass for every genre of music I play. My musical activities are very extensive, I do not limit myself to only one genre. Currently I play Classic Rock, Modern Metal, Powermetal, but I have also played Pop, Alternative Rock and Death-Jazz. Currently I own about four ready-to-play models. For my band Enemy Inside on the current tour I play a signature bass from Nature-Shock in white, first owner was Torsten Reichert from Vanden Plas, also a huge musical idol of mine. Next to it for the black outfit I have the Yamaha BB-N5, which was also my very first model from over 22 years ago. Not expensive, but in sound exactly what I like. I also played a Yamaha RBX-JM2 for a while, the 2002 model by John Myung, this bass was featured on the Beyond the Bridge album for example. For my band Purple Rising I use my Fender Precision Special, a Preci body with Jazz neck, modified with new pick-ups and just right for the 70s classic rock sound. Then I actually once had my own signature bass from Didi Slatin's guitar manufacture, but this bass has not resurfaced since a repair in 2017. Too bad, it was a good model. I also have a cheap Peavy practice bass, as well as an Ibanez acoustic bass that I play in two music videos and even had in use on stage once. Sometimes I find a bass under my bed that I had long forgotten about.
Pic: Kevin Spielmann
#4 – What do you think makes the perfect bass and amp?
Basically, the sound comes from the fingers. The attack is very important, whether finger or pick, EQ and compressor play a role. In the end, I don't care which amp shapes the sound, as long as I feel comfortable playing, feel punch and can perceive enough attack dynamics. For heavier music I like to play a distorted bass, here my Darkglass Microtubes 900 amp helps me. For classic rock, I rely on the good old Ampeg SVT II, in combination with appropriate speaker cabinet. Of course, the sound I perceive also influences my playing behavior, but basically I see myself as quickly adaptable and flexible.
Pic: hadarixpictures
#5 – What musical education and background do you have?
To be honest, music has always been one of my passions, influenced by my parents, who were not musicians themselves, but had a very large music collection in the form of CDs and vinyl. As a child I always wanted to become a drummer, but this failed due to financial means, limited space and volume problems in a rented apartment. At school I always thought that I would get good grades in music classes because I was interested in the subject matter. The opposite was the reality, the teacher misjudged my passion and I got very bad grades, which made my motivation plummet. It was a struggle with a lot of tutoring to counteract this. But I was very lucky, because my classmates were just like me on the Classic Rock trip and we formed a student band with the great ambition to become rock stars. The keyboard player of my school band, which later became Beyond the Bridge, had later studied music and taught me a lot of theory as part of our music making before. I was able to continue to build on that knowledge and with each new band I soaked up more knowledge and experience. I never had any further musical education outside of school. To be honest, I can't read any sheet music today. I don't think I need to be able to read music if I could still develop a basic understanding of music and be comfortable with the basics of theory. I make music by feeling, I detest music stands on stage, music must be felt and one must be able to react spontaneously. Music must never seem mechanical, even if that may be the goal of some styles. Music works when you can close your eyes and open your ears. However, years ago I started studying to become an audio engineer, and I was very much concerned with technical understanding. For a short time I was even a teacher at a music school, but I couldn't reconcile that with my main job. I have remained true to music, for 14 years now I have been working as an event manager and I know all sides in front of, on and behind the stage.
Pic: Markus Garth
#6 – When you only can choose one bass, which one will you take?
If I had to choose from all the basses, I would actually choose the Yamaha BB-N5. This bass has the ultimate sound for me, I've used it with almost all bands, I love the fretboard and the distance of the strings to the pick-up. It feels super familiar and the sound is badass. I also love using it as a recording bass, as I find the sound very versatile and so far every producer has been happy with the result. I recently had both pick-ups soldered to a single volume potentiometer, I don't need any adjustments on the instrument itself, that's done on the amp or in the effects loop. The simpler the better. When playing, I care about performance, not settings or changes in the sound.
Pic: Hans Rock
Pic: Andreas Hölzle
Pic: Andreas Hölzle
Pic: Andreas Noack
https://www.facebook.com/TheOldManAndTheSpirit
https://www.facebook.com/SonicHavenofficial
https://www.facebook.com/PurpleRising
https://www.facebook.com/WeAreEnemyInside
---
Anzeige
Werbung mit Transparenz! Durch den Einkauf von Produkten über die hier gesetzten Amazon-Links kann das Fan-Projekt darkstars.de Provisionen erhalten, was aber für die Käufer preislich kein Nachteil ist. Siehe auch Projektfinanzierung darkstars.de.
Letzte Aktualisierung am 6.12.2021 / Affiliate Links / Bilder von der Amazon Product Advertising API