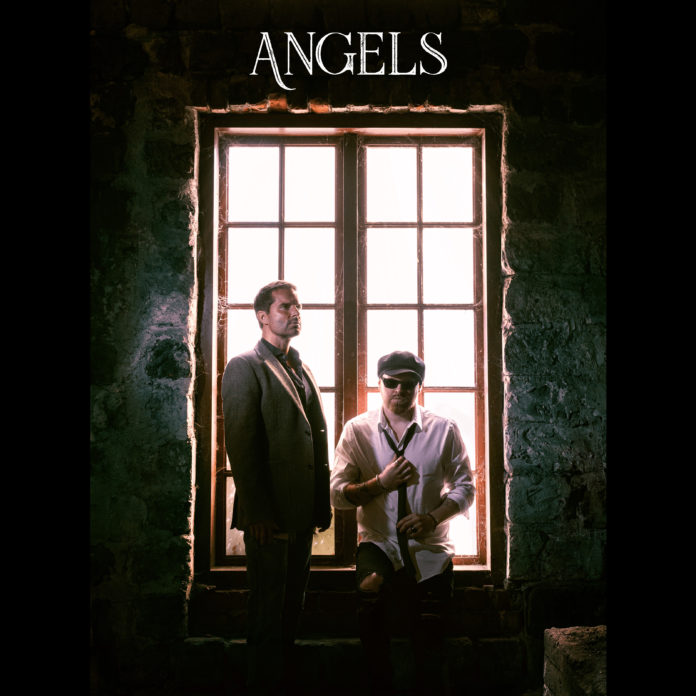 Symphony Of Sweden released a new song on the 21st of October from their upcoming album – the first song from the highly expected material was "The Grim Reaper" and now it's followed by "Angels" which is probably the band's most challenging song up to date.
Lee's statement: "Well, I'm really a spiritual person and I believe that you should fight for the good in the world and for the people that need your help. I have gotten myself into a confrontation when standing up for what I believe in or trying to help somebody, and even if I'm by myself I feel that I'm doing the right thing. Somehow I know I got back up from some higher power.
This song took a long time to get done. At the end of last year and the beginning of 2021, my health and voice got really bad because of stress. Nothing worked, my voice cracked and I even lost it for a while. I had a lot of doctors checking me, but they didn't know what was wrong, and that meant even more stress. Let me tell you: my health really reflected how I wrote. I made 5-6 different lyrics and melodies to this track and put in a lot of work – but it wasn't good enough. So I needed to take a break and relax for some months, and when I felt better I wrote "Angels"."
Evan's statement: "This track is definitely the track we have spent the most time on, to be honest by far! It all started with a pretty basic production, where Jim (our guitarist) played to a drum track I already had recorded with Erik.
At that time we also had a rather hooky guitar riff, pretty radio-friendly actually but it never made it to the final version.
Then when Lee entered the picture he said he had a killer chorus for the song but he sang it better in another key… So, Jim and I spent a couple of days transposing and re-record all guitars and I had to artificially pitch-shift the real string quartet my sister played, and finally we had the production in another key…
Fast forward, a couple of days and Lee came to the studio to record the vocals and after recording some takes, both Lee and I looked to each other and said, we can do better than this right? So, we were back to the drawing board again for Lee and I told him to try to use the original key again, where all instruments sounded better.
After a couple of months later, we were to record the vocals again, which we did and now we had the killer chorus that we wanted from the start!
However, now as the chorus was really strong I thought the verses could be better, however, I told Lee it was no need to change the verse melody or anything. I re-arranged the verses completely and gave them a more symphonic and dramatic touch to better fit the epic sound we always are after with Symphony Of Sweden!
Normally we have a great flow and everything just falls in place automatically for most songs we do, but with this track, we really struggled to get the great track we wanted it to be. So the challenge on this particular track was to keep the positive energy from start to finish even though it took way longer to complete than our average track! However, it was definitely worth the effort!"
Welcome to the musical world of Symphony Of Sweden!
Coming from the North of Sweden with winter and ice bears all over the place, the music is the other way around. Grand and epic with huge arrangements, the missing link between pop and metal – this is Symphony of Sweden! Add the powerful voice of Linus "Lee" Wester and the creative talent of Pontus "Evan" Hagberg you will have a concept that brings you on a journey from here to eternity.
Symphony Of Sweden is:
Pontus "Evan" Hagberg
Linus "Lee" Wester
Evan and Lee lived in the same small town up north in Sweden. Lee had his own little service point, betting shop, tobacco store nearby which also happened to be Evan's local service point where he went to get his parcels. After saying hello to each other for a couple of years, there was one day Evan had a parcel to get – which obviously was music-related. They fell into conversation with each other, a few days later Evan invited Lee to his studio. Evan: "he had found one of my instrumental tracks on Youtube and sang it with a new melody on top and lyrics for me in the studio, right there when he just arrived! I was blown away, and a week later we had our first ever track produced and completed. As soon he sang his first two words in the studio I wanted to work with him!"
The band released their first album, Inner Demons in January 2021. But they didn't stop: Symphony of Sweden is already working on their new album, which will be released in the first half of 2022. "At the moment as we are not allowed to play live, we have plenty of time to work on new songs and for many of the new tracks, we are working with a great super talented metal guitarist to add more power and metal to the sound!
We are also working more closely with our drummer on the new tracks. From a technical view, we have invested in a lot of analog gear and trying to stay away from using plugins which are sounding way worse than their real analog counterpart when speaking of EQ and dynamics. We are trying to make the best album ever released both sound-wise and music-wise! If we then end up with the second or third best album ever, we should be proud anyway" – Evan added with a smile.
---
Anzeige
Bestseller Nr. 1
Heavy Metal Einhorn Metaller Rock Festival Musik Geschenk Pullover Hoodie
Bist du auf der Suche nach einem passenden Geschenk? Dann solltest du dieses herausragende Design kaufen! Die Leute werden dieses coole Motiv lieben. Tolles Geschenk für deine Mutter, Vater, Großvater, Großmutter, Onkel, Tante, Schwester oder Bruder.
Eine ideale Geschenkidee für Liebhaber und Fans ob zu Weihnachten oder zum Geburtstag. Eine großartige Überraschung für jeden besonderen Anlass wie Vatertag, Muttertag und jedes andere Jubiläum. Papa, Mama, Opa oder Oma werden sich darüber freuen.
8.5 oz, Klassisch geschnitten, doppelt genähter Saum
Angebot
Bestseller Nr. 2
Marvel Hoodie Herren, Oversized Hoodie Decke, Übergroßer Pullover Herren, Avengers Fanartikel
OVERSIZED MARVEL PULLOVER --- Unser oversized Herren Pullover ist ein offizieller Marvel Fanartikel, der Avengers Fans begeistern wird. Unsere Hoodies für Männer sind kuschelig-weich und verfügen über eine praktische Kängurutasche und Sherpa Fleece Futter in der Kapuze. Der übergroße Kapuzenpullover für Herren ist das perfekte Relax-Outfit.
ONE SIZE FITS MOST --- Unser Marvel Hoodie Pullover ist erhältlich als gemütliche, übergroße Einheitsgröße. Mit Hilfe der Größentabelle in der Bildergalerie können Sie sich vergewissern, dass das Hoodie Blanket eine angenehme Größe hat.
OFFIZIELLES MARVEL MERCH --- Unser Oversize Hoodie Herren ist ein lizenzierter Marvel Fanartikel der offiziellen Marvel Merchandise Kollektion. Sie können sich bei unserem Herren Hoodie also auf eine hervorragende Qualität verlassen. Der Avengers Hoodie zeigt die Superhelden Captain America, Spider-Man, Iron Man, Hulk, sowie das ikonische Marvel Logo.
SANFTER FLEECE STOFF --- Der Oversize Hoodie Herren ist aus sanftem Fleece Stoff gefertigt und somit warm, bequem und angenehm (100% Polyester). Der Männer Pullover wird garantiert zu Ihrem neuen Lieblingsoutfit für ruhige Abende und entspannte Wochenenden. Der oversized Hoodie Herren ist zudem leicht zu reinigen und trocknet schnell.
GESCHENKE FÜR MÄNNER --- Unsere Marvel Herren Hoodies eignen sich perfekt als Herren Geschenke. Überraschen Sie Ihren Liebsten mit diesem tollen Oversize Pullover Herren.
Bestseller Nr. 3
Werbung mit Transparenz! Durch den Einkauf von Produkten über die hier gesetzten Amazon-Links kann das Fan-Projekt darkstars.de Provisionen erhalten, was aber für die Käufer preislich kein Nachteil ist. Siehe auch Projektfinanzierung darkstars.de.
Letzte Aktualisierung am 8.12.2021 / Affiliate Links / Bilder von der Amazon Product Advertising API